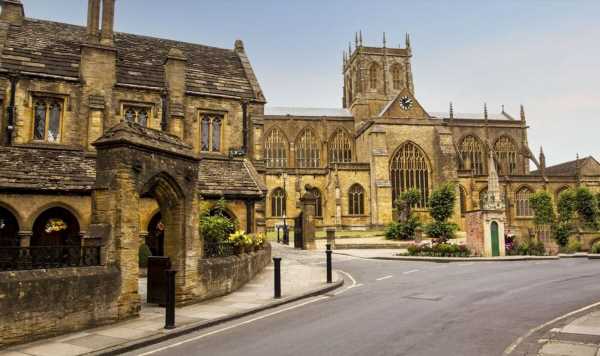 Most people tend to whizz through the town on their way further west such as Devon or Cornwall, but they're missing out an absolute gem of a town in Dorset.
Sherborne is a tiny, yet hugely historical town with an Abbey and not just one, but two castles. It sits close to the Somerset border and is surrounded by heavily wooded hillsides and green pastures.
It is undoubtedly one of the most beautiful towns in England. It has the same, charming honey-coloured stone buildings as in the Cotswolds, but without the crowds.
Its charm continues to its main street independent shops and cafes which reside in the lovely Georgian and medieval buildings along Cheap Street.
Sherborne also happens to be a mecca for antique dealers so it's a destination for art and furniture lovers. The Abbey takes centre place in the town and dates back to the 12th century and has an incredible nave roof of carved wood.
READ MORE 'Best' Spanish seaside town loved by locals that Brits don't even know is there
It's a wonderful place to wander around and the carved statues offer a glimpse into medieval life. Sitting alongside is the magnificent St. Johns Almshouse which is now home to 18 elderly residents.
Modern-day life can be viewed at the regular Farmers' Markets where most of the population descend on Cheap Street to buy their provisions. 
Even the pretty park, Pagaent Gardens is adorable as is the market square and small museum which tracks the town's colourful history and has a touch screen, illuminated copy of the medieval Sherborne Missal. 
The first of Sherborne's castles is simply- named Sherborne Castle. Otherwise known as the "new" castle, it was built in the 16th century and is a stunning example of Tudor design and within the property sits a massive 50-acre lake.
Don't miss…
'A glorious sight' Tourists rave about the narrow roads and architecture
Spot so beautiful visitors suffer 'withdrawal' symptoms voted most popular
'Most picturesque city' in England is 'spectacularly beautiful'
We use your sign-up to provide content in ways you've consented to and to improve our understanding of you. This may include adverts from us and 3rd parties based on our understanding. You can unsubscribe at any time. More info
More of a residence, than a castle, it's surrounded by maginficent grounds designed by the legendary garden designer, Lancelot 'Capability' Brown. 
Sherborne's Old Castle certainly lives up to its name as there is not a lot left. Helpfully, you don't have to travel far to view it – it's set on the grounds of New Sherborne Castle and was built by Sir Walter Raleigh in the 1590s. 
A portion of the fortifications and one Gatehouse are clearly visible as a small part of the Central Building and The Great Hall, but it's largely destroyed. 
Source: Read Full Article