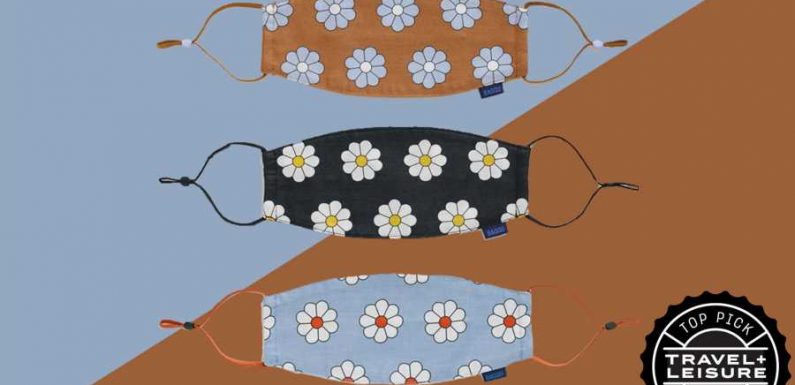 At Travel + Leisure, we're dedicated to helping you find the absolute best products to meet your needs on the road and at home. The T+L Top Picks seal is awarded to items our editors have determined to be the best buys in their category.
At this point in the pandemic, you've probably found your go-to face mask for everyday where, but with the latest news from the CDC about mask guidelines, Dr. Fauci's recommendation to double mask, and rising COVID-19 cases around the country, it might be time to reevaluate. I had been wearing Bloch's Soft Stretch Reusable Face Masks for months, and recently started layering them with disposable masks, although I've found that one face mask from Baggu is a standout for winter use, and it's become my new favorite.
Load Error
Related: These Warm, Breathable, and Weather-resistant Face Masks Are Ideal for Winter
The Baggu Fabric Face Masks are made from 100 percent organic quilter's cotton, which has a tight weave that can effectively block respiratory droplets while remaining breathable, according to the brand. I bought these masks this past summer, and I'll admit, they felt a bit hot on my face on particularly warm days. But after breaking these masks out again recently, I realized that they're the ideal winter mask for their thickness, coverage, and filter pocket.
Gallery: Eco-friendly products for your next trip (USA TODAY)
To buy: Baggu Fabric Mask Set, baggu.com, $32 for set of three
So what's the game-changing feature that makes these masks stand out from all the rest? It's the extra flap of fabric around the chin that folds down, giving you more coverage from the cold when you're out and about, minimizing the amount of skin that's exposed to the elements on chilly days. When I'm wearing this mask with a scarf and my coat zipped up all the way, for example, I feel adequately bundled and prepared for the elements (even in spite of the recent cold spell in New York City and foot of snow outside my door). The extra fabric around the nose and adjustable nose wire provide more coverage up top as well, as well as a comfortable and breathable fit. I also love that these masks have a filter pocket, so I can add PM 2.5 Activated Carbon Filters for extra protection.
To buy: Baggu Fabric Mask Set, baggu.com, $32 for set of three
Madeline Diamond is an e-commerce editor at Travel + Leisure, and she's constantly fighting the impulse to overpack for her next trip. You can follow her on Twitter @madgdiamond and Instagram @madelinediamond.
Love a great deal? Sign up for our T+L Recommends newsletter and we'll send you our favorite travel products each week. 
Source: Read Full Article