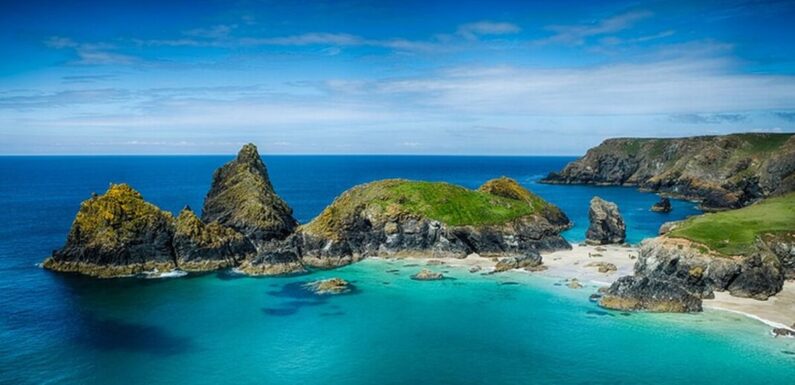 A breathtaking beach in the UK is so beautiful that it rivals some of Europe's most popular tourist spots – and even has queues for the car park in busy periods.
Located in Cornwall, Kynance Cove is famous for its white sand, turquoise sea, and rock stacks
Popular since Victorian times, the brilliant turquoise water and white sand, with islands, caves and unexpected views will still take your breath away. 
The stunning cove's distinctive features are the serpentine rock formations, that includes the pinnacle to the north of the beach. 
Kynance Cove is now owned and cared for by the National Trust.
READ MORE The pretty UK seaside town Gwyneth Paltrow is eyeing up – despite wary locals
The beach has become one of the most visited over the years, especially after it was featured in an episode of Poldark. 
One can also opt for a lovely scenic coastal walk around from The Lizard Point which is located less than two miles away.
The sea here is generally pretty calm in the summer, but this is quite an exposed stretch of coast so the sea can be unpredictable and dangerous.
Situated just above the beach is the Kynance Cove Beach Cafe which has operated here for nearly 100 years. This off-grid café is the perfect spot for a crab sandwich Cornish pasty,  or cream tea.
Over 2,000 reviews on TripAdvisor and around 1,600 tourists have given it a five-star rating.
Don't miss…
Americans gobsmacked after finding out Harry Potter items were British[INSIGHT]
Areas with the highest level of destitution as million kids living in poverty[REVEAL]
Owner of rotting pub next to the M56 embroiled in a six-year legal battle[SPOTLIGHT]
 A tourist who visited the beach last month said: "It is one of the most beautiful locations in Cornwall. The steep climb down is well worth it for the spectacular scenery and lovely beach. 
"We parked in The Lizard village and walked through the fields then down the steep path with many others heading to the beach.
"The alternative track is more suitable for pushchairs. The Kynance Cove Cafe is great, good food, relatively cheap and privately run by a friendly team."
Another user said: "The beach is quite large so loads of space for people to come but the car park does fill up quite early so I'd recommend getting there early.
Advert-free experience without interruptions.
Rocket-fast speedy loading pages.
Exclusive & Unlimited access to all our content.
"We got there for 9:30 and we knew people who tried to arrive at 10 and got turned away. The beach is extremely clean and not a lot of seaweed about either. 
"Parking is £7 and you can use your phone to pay but there's not brilliant signal if any so take some money with you to pay."
Another user said: "We parked in Lizard village and took the path to Lizards Point then picked up the Coastal Path to Kynance Cove.
"This was a beautiful walk with gorgeous views along the headland. A definite must if you are unsure. Took about 15 mins from the village to reach Lizards Point, then just over one hour along the Coastal Path to Kynance Cove. 
"Wear proper footwear and it is rocky in places and some climbing (up and down steps), otherwise a nice terrain."
"There is a pay and display car park as you approach Lizards Point and more toilets. Nothing along the Coastal Path until you reach a pay and display car park at Kynance Cove (toilets can be found here) as well as at the bottom of the Cove near the cafe.
"This really is a stunning place that you must visit!"
Source: Read Full Article