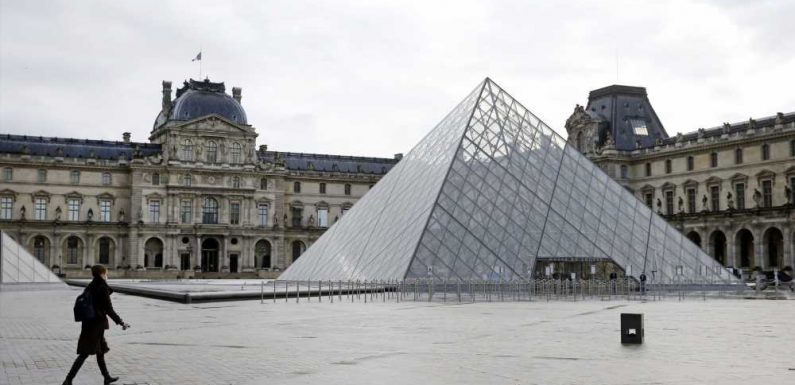 You can now view all the treasures of the Louvre museum without having to book a trip to Paris.
The Louvre has put its entire art collection online, the iconic museum announced Friday, with more than 480,000 works of art available for anyone to look through at any time for free.
The museum's most famous works of art like "Winged Victory," "Venus de Milo" and, of course, the "Mona Lisa" are available to peruse online, along with thousands of other items like paintings, sculpture, jewelry, furniture, textiles, and historical objects.
Video: Belgium unveils showcase for Ghent masterpiece (Reuters)
Washington's cherry blossoms near peak bloom

Reuters


Belgium unveils showcase for Ghent masterpiece

Reuters


Munich gallery to auction Hollywood memorabilia

Reuters


Biden wishes 'hope' for the year ahead for Passover

Reuters


African elephants face growing risk of extinction

Reuters


Prague Square becomes coronavirus victim memorial

Reuters


At least 32 killed in Egypt train collision

Reuters


William Shatner to preserve his life through AI

Reuters


Protesters, police clash in Bangladesh over Modi visit

Reuters


At least 10 dead in Mumbai hospital fire

Reuters


Graphic shows Suez Canal shipping traffic

Reuters


India devotees celebrate Holi festival

Reuters


New Zealand's Catholic Church apologises to survivors of abuse

Reuters


'It's sick' -Biden on GOP voter restriction efforts

Reuters


Big Tech CEOs find few friends at House hearing

Reuters


Russian trains to be equipped with computer vision

Reuters


Washington's cherry blossoms near peak bloom
The famous pink cherry trees of Washington, D.C., are getting closer to blossoming each day, with warm weather speeding things along.


Reuters



Belgium unveils showcase for Ghent masterpiece
A15th century Flemish masterpiece emerges from a decade of restoration this week in a new exhibition space in Belgium's Ghent Cathedral, with updated technology to plunge visitors into an intricate work with a troubled past.


Reuters



Munich gallery to auction Hollywood memorabilia
An auction house in Munich is selling prized props from some of the biggest sci-fi blockbusters of the last decade.


Reuters

"Today, the Louvre is dusting off its treasures, even the least-known," President-Director of the Musée du Louvre, Jean-Luc Martinez, said in a press release. "For the first time, anyone can access the entire collection of works from a computer or smartphone for free, whether they are on display in the museum, on loan, even long-term, or in storage. The Louvre's stunning cultural heritage is all now just a click away!"
The new database contains work from the Louvre and Paris's Musée National Eugène-Delacroix, alongside sculptures from the nearby Tuileries and Carrousel gardens. Online viewers can also peruse "MNR" works (Musées Nationaux Récupération or National Museums Recovery) that were recovered following WWII and entrusted to the Louvre until they can be returned to their legitimate owners.
Load Error
Viewers who aren't quite sure where to start — or simply want to mimic a visit to the Louvre — can use an interactive map and virtually explore the museum room by room. Users can also search for a specific work of art, browse the collection by theme or follow a themed collection made by the museum's curatorial department. The database will be continually updated with new works and new research.
The Louvre closed to visitors at the start of the pandemic and briefly reopened over the summer with new COVID-19 precautions. The museum remains closed to visitors at this time due to Paris's lockdown and is currently undergoing renovation like adding new security systems, cleaning sculptures, and reorganizing entrances.
Cailey Rizzo is a contributing writer for Travel + Leisure, currently based in Brooklyn. You can find her on Twitter, Instagram, or at caileyrizzo.com.
Source: Read Full Article