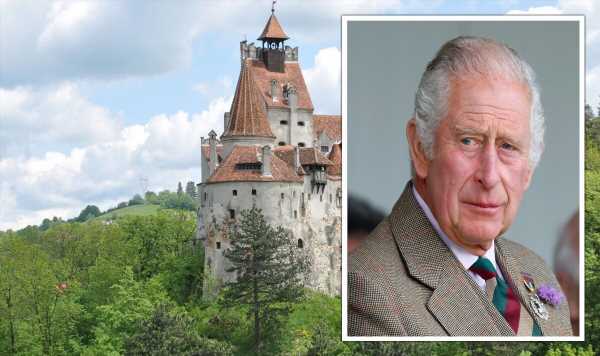 King Charles: Kristina Kyriacou discusses monarch's schedule
We use your sign-up to provide content in ways you've consented to and to improve our understanding of you. This may include adverts from us and 3rd parties based on our understanding. You can unsubscribe at any time. More info
King Charles III has travelled all over the world in his role as a working royal. But the new monarch has a special place in his heart for Romania.
The legend of Dracula has struck fear in the hearts of people all over the world including in the UK.
But Britain's new monarch has an unusual connection to the ruthless prince who inspired the vampiric character.
The Royal Family has links to countries across Europe, including Romania and King Charles III is actually a descendant of Vlad the Impaler.
Vlad the Impaler sometimes known as Vlad Tepes was a ruthless leader who was known for impaling his enemies on stakes.
The 15th century ruler is said to have inspired Bram Stoker when he wrote about the terrifying Count Dracula.
King Charles III is actually Vlad's great grandson 16 times removed through the Consort of George V, Queen Mary.
The new monarch makes no secret of his bloodthirsty connections and is said to enjoy visiting Romania.
Count Dracula's fictional home can be found in the sleepy region of Romania known as Transylvania.
King Charles III owns several properties in the Romanian region across Viscri, the Zalanului Valley, Malancrav and Breb.
The pastel-coloured villages are very popular with tourists, many of whom travel to visit Viscri's UNESCO World Heritage chuuch.
King Charles III owns a property which consists of several buildings, a patch of forest and extensive flower meadows.
The properties are holiday cottages and can be booked by tourists who want to explore the mystical region.
King Charles III once joked about his Dracula links, saying on a visit to Romania: "You could say I have a stake in the country."
On his first visit in 1998, the new monarch said he was "totally overwhelmed by its unique beauty and its extraordinary heritage."
The new King visited Transylvania as recently as May this year and has made many trips to the region.
Tourists can book a stay in one of the King's Translyvanian guesthouses at https://zalan.transylvaniancastle.com.
A stay costs around £150 per night and includes meals, a welcome drink and excursions in the surrounding area.
Room-only rates are also available and tourists can also book extras such as horse and carriage rides.
Several UK based airlines fly to the Romanian capital of Bucharest with budget flights available.
Tourists can also pay a visit to Bran Castle, marketed as the home of Bram Stoker's infamous Count Dracula.
Source: Read Full Article