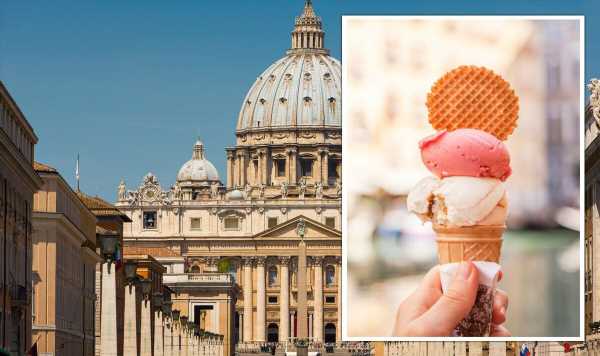 Simon Calder offers travel baggage advice
We use your sign-up to provide content in ways you've consented to and to improve our understanding of you. This may include adverts from us and 3rd parties based on our understanding. You can unsubscribe at any time. More info
An American tourist was shocked by a particularly harsh tourist fine. The unsuspecting visitor was fined almost £400 for eating an ice-cream in the wrong place.
The unnamed man was sitting on a fountain in Rome when he tucked into the forbidden Italian gelato.
But it wasn't just any fountain. The tourist was eating his snack on the edge of the Fontana dei Catecumeni in Rome.
He was approached by the Italian police at around 1am on August 3 and was also drinking a beer.
According to local reports, the tourist ignored the police when they asked him to move away from the landmark.
A local paper reported the man as saying: "I didn't know the rule, I didn't know I couldn't sit down.
"I didn't understand what you were saying to me."
The impressive fountain dates back to 1589 and usually has protective tape around it to stop tourists sitting on it.
Fontana dei Catecumeni is located in a touristy area of the city which is usually packed with nighttime revellers.
The tourist fell foul of Rome's recently introduced 'urban decorum' rules which are designed to protect historic landmarks.
Many local residents have complained about the number of tourists visiting the city and are particularly irritated by those who break the rules.
Messy eating around Rome's treasured landmarks is forbidden as it could damage one of the historic sites.
Tourists are also forbidden from eating on Rome's famous Spanish steps and should never sit down on the monument.
The capital city isn't the only tourist destination in Italy to be cracking down on rowdy tourist behaviour.
Venice's mayor recently promised a free dinner to anyone who helped him identify two rule breaking tourists.
The rowdy pair were videoed surfing on one of the city's canals causing widespread anger among residents.
A pair of American tourists were recently chastised for skinny dipping in one of Venice's canals.
The canals might look attractive but the water is actually very dirty and sometimes even contains sewage.
Italy's Amalfi coast is also cracking down on tourists and has introduced a brand new bikini ban for visitors.
Tourists are banned from wandering around shirtless or in a bikini although they are still allowed to do so on beaches.
The region has also introduced new number plate restrictions to control the number of tourists accessing the popular coastal road.
Source: Read Full Article