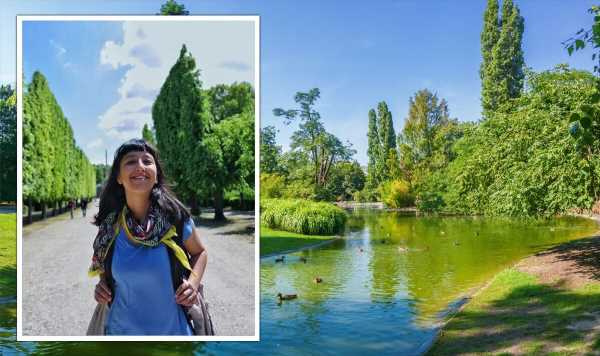 Eamonn Holmes praises airport staff amid travel chaos
We use your sign-up to provide content in ways you've consented to and to improve our understanding of you. This may include adverts from us and 3rd parties based on our understanding. You can unsubscribe at any time. More info
Dreaming of a healthy holiday? New research from HOKA has found the world's healthiest cities.
World's healthiest cities (HOKA)
Vienna
Santa Cruz de Tenerife
Melbourne
Rome
Stockholm
Berlin
Lisbon
Sydney
Barcelona
Copenhagen
Vienna was crowned the healthiest city in the world in the HOKA research and scored the maximum possible score for walkability.
The Austrian capital city has a mild climate with an average temperature of around 13 degrees, making it easy to exercise.
The HOKA team said: "Vienna has one of the lowest pollution levels in the top ten. It makes Vienna a city of runners' dreams."
Vienna is also home to a lot of green space which its residents can enjoy after a busy day at work.
While the city's famous Sachetorte, a sumptuous chocolate cake, might not be the healthiest choice, Vienna has a great array of leisure activities to work off the treat.
Spain's Santa Cruz de Tenerife came second in the index and offers tourists and residents incredible beaches.
There's plenty of reason to spend time outside on the Canary Island as the average temperature is 22 degrees.
The stunning Spanish spot is just a short hop from the UK and budget flights are available from most major UK airports.
Outside of Europe, Melbourne in Australia topped the HOKA healthiest city rankings.
The city is known as the 'sporting capital of the world' and lives up to its name.
With milder temperatures than many areas in Australia, the average temperature in the Oceanic city is just 17 degrees.
Tourists can take a walk in the Royal Botanic Gardens to get close to stunning nature without leaving the city.
Italy's capital city, Rome, was the fourth best rated spot and is extremely walkable for tourists.
Visitors will be able to explore the ancient city on foot after enjoying some of Italy's incredible culinary delicacies.
Stockholm, Berlin, Lisbon, Barcelona and Copenhagen also made the top list in Europe and many of the cities boast low pollution levels.
Another Australian city was the only other non-European spot to make the list, with Sydney sneaking into the top 10 at number eight.
Source: Read Full Article