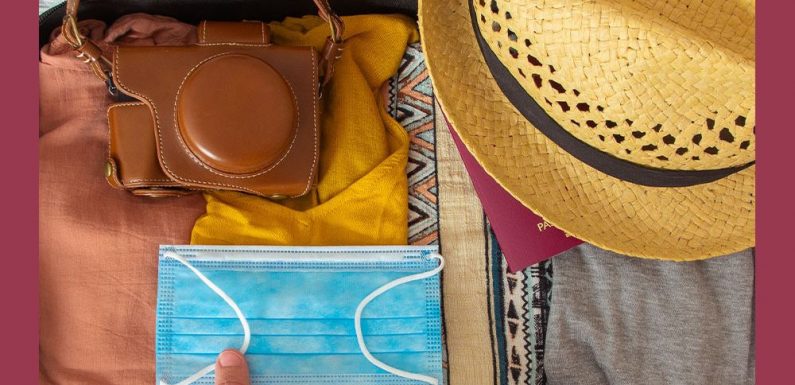 If there's one thing we can say about 2020, it taught us how to handle unprecedented levels of uncertainty. Over the last year, and into 2021, we've been asked to change everything about the way we work, socialize, and sustain ourselves — putting leisure travel largely on hold as well.
It's estimated the tourism industry won't experience a full recovery for several more years. Even as the vaccine roll-out begins, it'll take time for hotels, airlines, and resorts to adjust and create safe, desirable experiences. While the future remains anyone's guess, we'll still see people traveling throughout 2021. Here are some of the changes we're likely to see both travelers and destinations experience in 2021 and beyond.
Load Error
We'll go big
Quite simply, more people will be traveling. Americans are notoriously bad at using vacation days — to the point 768 million went unused in 2018. Being forced to curtail movement has made many people ready to make up for lost time. With many offices embracing remote work, the number of digital nomads is likely to increase. As the Wall Street Journal reports, many countries including Estonia, Georgia, and Bermuda have already embraced the trend by offering special year-long visas for remote workers able to support themselves without taking additional work in the country.
Those not looking to uproot their lives might find themselves experiencing a phenomena that some are calling revenge travel>>>P. When it's safe, it's likely many travelers will react by booking extravagant trips, or look to cross something off their bucket lists. Hilary Saunders, managing editor of folk magazine No Depression>>>P, is wholeheartedly embracing the concept.
"I'm a music journalist and according to my calculations, I was'on the road' for 138 days in 2019," she says."These days, I barely leave my apartment, much less the city, borough, state, or country. So, whenever it's safe to travel again, I intend to go hard. Nature's magnificence still ranks high on my list: I want to dive the Great Barrier Reef and off the coast of Belize. I want to hike Machu Picchu and part of the Camino de Santiago. But as someone whose profession, livelihood — and frankly purpose — revolves around people gathering and experiencing something together, I can't wait to be surrounded by dozens-to-tens-of-thousands of my closest friends again, whether at the Nordic Folk Festival in Denmark, the gathering of bluegrassers in Japan>>>P, or any smattering of rock shows Down Under. I'm going to crowd-surf for the first time and thank every person for putting their sweaty paws on my skinny jeans, lifting me over a mess of humanity and casting away this collective grief."
We'll revisit the places that bring back strong, positive memories
In addition to taking dream trips, travelers are also expected to revisit places where they have a strong emotional connection. Theme parks like Disney World and Resorts are all planning for an influx throughout 2021. (However, there's no scheduled date for Disneyland Parks reopening.) It turns out there's a psychological reason why we're all clamoring to visit places we consider to be our home away from home.
"People's favorite places give them a sense of identity and a'home away from home,'" explains Pam Shaffer, a licensed marriage and family therapist>>>P."We have not been able to experience the other sides of ourselves that we do when we travel so I would anticipate that many people will be revisiting their favored spots in order to regain a sense of themselves."
For Heidi Brynn, an office administrator from Minnesota, that place is London — where she visited three years ago after a lifetime of anglophilia."I lost my breath when I accidentally stumbled upon the Globe Theatre that first night," she recalls."Almost started crying when I saw Big Ben, scaffolding and all. Fast forward only a few years later and I snagged myself my very own British boyfriend. Now a trip back to London is also a mandatory trip back to see the family."
Travel will get greener
In April of 2020, flights decreased a record 58%>>>P. Meanwhile, across the year car traffic decreased by a staggering 28.9 billion vehicle miles. All this working from home and putting off non-essential errands had ecological advantages — as reported by National Geographic areas of pollution choked India, nitrogen dioxide fell more than 70 percent.
To maintain these ecological gains, dramatic changes will have to be made when travel returns. Rather than piecing together how to live out your ecological values while on the road through a series of internet deep dives, travelers now have the option of having someone else do the research on their behalf. Although efforts are still fairly niche, websites like Happy Cow allow you to find vegan food, Green Choice Travel allows you to track your emissions, and even the city of Helsinki has taken the step of highlighting sustainable businesses.
But it'll take more than simply rethinking trips to make a difference. Antero Vartia, the CEO of Compensate>>>P, a carbon off-set organization, likens the practice of flying less to occasionally throwing trash in a neighborhood park you've been asked to keep clean. And as he reveals, even a single flight releases a lot of"trash."
"[Consumers] can emit two and a half tons of carbon dioxide per capita per year," he says."
For airline travel to move towards a more environmentally sustainable model, Vartia contends that passengers have to take responsibility for their emissions (a practice he recommends extending to other areas of your life) by buying carbon-offset credits. You can think of the practice as an ecological trade. No, you can't control the amount of CO2 emitted by your plane, but through a voluntary small payment to companies like Compensate, you can offset your CO2 footprint by funding tree-planting initiatives across the world.
To do your part, consider flying an airline like Alaska or Delta>>>P, both of which have in-house carbon offset programs. Otherwise, consider setting aside a tiny part of your vacation budget to pay for offsets. You'll be surprised how far your money will go. Offsetting the round-trip emissions from Los Angeles to Tokyo cost roughly $50.
Travel will get more compassionate
After a year focused on the Black Lives Matter movement, and social justice as a whole, more workers are moving to unionize, and discussions about raising the minimum wage and worker conditions are circulating. As a result, it's impossible to ignore the exploitative nature of tourism on workers. In response to this conversation, Kynder founder Louree Maya predicts that more people will focus on how they can give back to the communities they're visiting. That's the concept that drove her to create a platform where fellow travelers can find sustainable restaurants, hotels, tour operators from across the world that couple sound ecological practices with ethical and fair labor practices.
"The categories that we include on Kynder are accommodation, eateries, ice cream shops, coffee, tea houses, sweet shops, and tour companies," says Maya."The things that we consider are the use of organic fair and direct trade products, local sustainably sourced products, humanely raised meat, sustainable, seafood and vegan options…the businesses that we select for kinder need to value and practice fair labor. And the more that they love their staff, the better."
More outdoors and socially distant options
At our current vaccination rate, Dr. Anthony Fauci predicts we'll be able to archive some level of normalcy by Fall of 2021. While this means that, due to international quarantine restrictions, overseas travel will be largely off the table, many travelers are trading passport stamps for roadmaps. In 2020, Americans visited national parks in record numbers. Locations have taken note of this, and have begun offering alternative, Covid-safe activities. As Becca Fritz at Alluring Africa points out, traveling with social distance in mind can have its upsides, namely a greater sense of intimacy.
https://www.instagram.com/p/CK2G0sUnAUX/
A post shared by Alluring Africa (@alluringafrica)
"Safaris were typically synonymous with exclusivity, but the experience will become even more exclusive since fewer people will be traveling," she says. Private villas started emerging over the last few years to cater to multi-generational families and are now appealing to all types of travelers to allow people to remain socially distanced. Long gone are the days of communal dining and buffet service. Travelers can expect private dining experiences with plated meals in unique locations around the camp – think bush breakfasts and starlit boma dinners.
Cleanliness will be key
According to a survey completed by PhocusWire>>>P, 40% of tourists will prioritize hotels and airlines with higher sanitary standards. Given the masks, extreme handwashing, and social distance messaging we've already incorporated into our daily lives, it's a standard for loyalty that seems unlikely to change as we move forward. As Elin Westin, Director of Communications at Scandic Hotels Group explains, adapting to this new reality has been a primary concern for her company.
"Early on in the pandemic we saw the need to implement increased hygiene routines in order to increase guest safety during Covid-19," she says."In the Nordic countries, we were pioneers and worked together with our industry organization in order to set strict standards for our whole industry. The response has been very positive and we see that safety is now one of the top priorities for our guests….Frequently touched areas, such as bathrooms, elevator buttons, and remote controls, are disinfected and cleaned with a higher frequency, hand sanitizer stations and disposable gloves are available in lobbies and by restaurants, all tables, menus, and chairs in our restaurants are cleaned at a much higher frequency, and after each seating, loose items such as pens, note pads, and informational material are removed from rooms and meeting rooms. We have limited the number of seats in our restaurants and public areas and implemented floor markers in our receptions, by the elevators, and in our restaurants, as well as signs throughout our hotel facilities reminding our guests and team members to keep a distance. We also provide the possibility for individually packaged breakfast to eat in the room."
Of course, as with any activity, no matter where 2021 takes you, be sure to go with your gut and check local restrictions before booking. Safe travels.
Laura Studarus is a Los Angeles-based travel writer with bylines at Fast Company, BBC Travel, and Thrillist>>>P. Sometimes she can go several hours without a cup of tea. Follow her adventures on Twitter>>>P.
Get Shondaland directly in your inbox: SUBSCRIBE TODAY
Source: Read Full Article