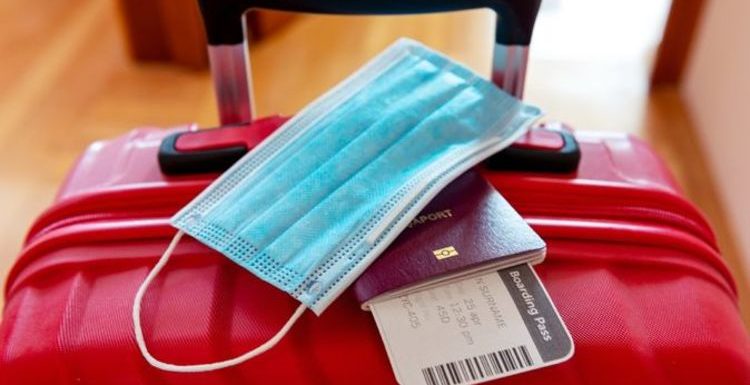 Labour's stance on travel restrictions 'not cared about' says host
When you subscribe we will use the information you provide to send you these newsletters. Sometimes they'll include recommendations for other related newsletters or services we offer. Our Privacy Notice explains more about how we use your data, and your rights. You can unsubscribe at any time.
An update to the UK's traffic light system for travel is due imminently as British holidaymakers hope for more summer holiday options to be made available. The narrow number of choices on the current green list has caused agony for wannabe summer holidaymakers across the UK, with most countries out of reach due to their own restrictions.
The Government is due to review the travel lists every three weeks, and while nothing has been confirmed as yet, Brits are hoping for more choice when it comes to summer travel later this year.
The current green list includes none of the UK's top travel destinations such as France, Spain, Portugal and Italy, making the prospect of a summer holiday less inviting.
Holiday destinations rumoured to be moving to the green list include Spain's Balearic Islands, Italy, Croatia, and Malta.
However, countries being added to the green list is highly dependent on Covid data.
Countries currently rumoured to be moving to the green list include:
Canada
Italy
Balearic Islands
Croatia
Malta
USA
Morocco
Mexico
Poland
Barbados
Grenada
Jamaica
Germany
When is the green list update?
The green list is due to be updated tomorrow, June 24.
Ministers are also working on plans to allow quarantine free holidays this summer.
The move, confirmed by the health secretary, would mean tourists and business travellers could visit amber destinations without having to self-isolate for 10 days on their return to the UK.
DON'T MISS
Hotels in Spain sue Booking.com for 'abusive' practices [REPORT]
Quarantine 'should be' axed for vaccinated by 'July 19' [INSIGHT]
Holiday hotspots vaccinated Brits could visit – if Amber list binned [INSIGHT]
Matt Hancock has said he is "in favour of moving forward in this area" and replacing quarantine with daily testing.
He told Sky News: "This hasn't been clinically advised yet – we're working on it."
It comes as the travel industry lobbies the government in a Travel Day of Action, putting pressure on the Government to further support the largely decimated travel industry.
Tim Aldersale, the chief executive of Airlines UK, said that "it is now or never for the government to reopen travel and save what is remaining of the summer season", adding that the "travel sector remains in lockdown as the rest of the country opens up".
Gary Lewis, chief executive of "Over the last 14 months we have seen our members' revenues drop to a fraction of 2019 levels and a number of our members have sadly closed their doors for good.
"While much of the economy reopens, businesses in the outbound travel sector have been left out in the cold with a lack of financial support and ambiguity about a safe route to international travel.
"Alongside colleagues across the travel industry, we're asking the Government to allow international travel to return safely in a risk-managed way, implementing the Global Travel Taskforce's plan for a traffic-light system.
"This should see the Green list expanding in line with the evidence and making restrictions more proportionate, whilst keeping a strong red list to guard against variants."
Source: Read Full Article