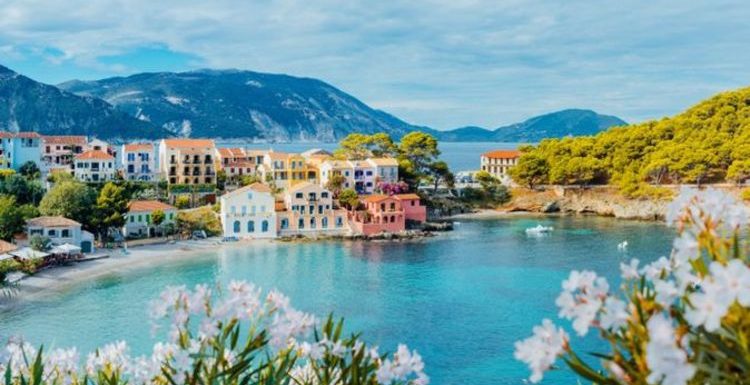 Matt Hancock discusses possible coronavirus vaccine passports
Vaccine passports may be able to help Britons travel abroad in a few months' time, according to a report published today. Some countries are hoping to welcome tourists who can prove that they have been vaccinated, The Times reports.
The Foreign Office, Department for Transport, and Department of Health and Social Care have started working on plans for a British vaccine passport.
This passport will act as proof that a traveller has been vaccinated against coronavirus.
It could allow Britons to travel abroad in less than four months' time. That said, in the UK it is currently illegal to go on holiday due to coronavirus restrictions.
Greek tourist officials have said Greece hopes to open its borders to Britain as early as May, providing people can prove that they have had the jab.
We will use your email address only for sending you newsletters. Please see our Privacy Notice for details of your data protection rights.
Greece is confident people who have received two doses of either the Pfizer or the Oxford-AstraZeneca vaccines will be safe enough to visit.
But they will still need a negative Covid test taken within less than 72 hours before they arrive in the country.
Tourism is an important industry for Greece, making up more than a fifth of its economy and employing around 10 percent of the country's population.
Greece attracted more than 30 million visitors in 2019, but the tourism sector has suffered considerably since the start of the pandemic.
DON'T MISS:
Latest updates on TUI flights, holidays and cruises as UK travel rules change [RULES]
Matt Hancock says Britons can expect a 'happy and free Great British summer' [NEWS]
Why Prince of Wales packs blood in his luggage when he travels abroad [ROYALS]
The Greek Government said it's unsure about whether Russian and German tourists will be able to visit the country, as both countries are far behind with their vaccine programmes.
However, the same cannot be said for British travellers as the vaccine rollout is happening at a much faster pace in the UK compared to neighbouring countries.
The Health Secretary Matt Hancock has said Britons can hope for a "Great British Summer" given the current rate of the population getting vaccinated, with the most vulnerable individuals set to receive their first dose of the jab by mid-February.
Grigoris Tasios, president of Greece's hoteliers federation, said: "Greece has long been a favourite holiday destination for the British, and with the rate of inoculations in the UK largely outpacing all others across Europe and beyond, British travellers will be among the safest to travel here by as early as May."
It is not yet clear what the British vaccine passport will look like, but it comes after news that other countries are also planning a similar document.
President Joe Biden has asked government agencies to look at the possibility of linking coronavirus vaccine certificates with other vaccination documents, and producing digital versions of them, according to the New York Times.
Denmark's government has also said that they will develop a digital passport that will allow citizens to prove that they have been vaccinated.
Additionally, both Etihad Airways and Emirates will start using a digital travel pass, which will enable travellers to have all their documents, including proof of vaccination, all in one place.
Earlier this year, Spain also announced that its government will back plans to develop a vaccine passport for its citizens.
Spanish Minister of Industry, Trade and Tourism, Reyes Maroto, said: "It is good news as a sign of multilateral commitment. It could contribute to restoring mobility at European level."
"Reaching immunity is a key milestone to generate confidence to travel," she added.
Ms Maroto confirmed that Spain is working intensively within the EU, the World Tourism Organisation, and other multilateral organisations to ensure safe mobility for Spanish people.
Source: Read Full Article