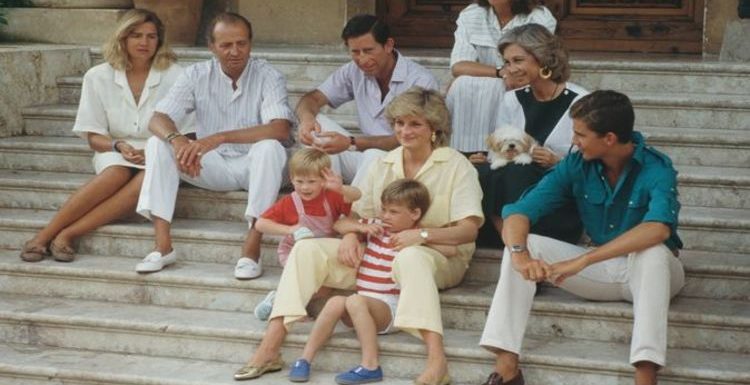 The Crown: Imelda Staunton on inheriting role of The Queen
We use your sign-up to provide content in ways you've consented to and to improve our understanding of you. This may include adverts from us and 3rd parties based on our understanding. You can unsubscribe at any time. More info
Princess Diana visited the beautiful island hotspot many times, both with her family and without. It is likely The Crown will explore one or some of the Princess's trips to Mallorca.
Princess Diana visited Palma in 1986 while married to Prince Charles. They were accompanied by Prince William and Prince Harry.
On the royal trip, the family stayed at Marivent Palace, the Spanish royal family's summer residence in Cala Major.
The family accompanied the Spanish royals, King Juan Carlos and Queen Sofía on their yacht to watch the Copa del Rey regatta.
The regatta is known as one of the most beautiful and competitive sailing regattas in the Mediterranean.
The couple also visited the small island of Cabrera, Ses Illetes beach and took their sons to play at Marineland waterpark.
Princess Diana spent a lot of her time on the trip swimming at southern Mallorca's beautiful beaches.
Prince Charles reportedly painted watercolours of the impressive landscapes around Valldemossa.
The family seemed to enjoy the popular destination and returned for holidays in Mallorca in 1987, 1988 and 1990.
Princess Diana also paid a solo visit to the island in November 1996. Majorca Daily Bulletin says it received an "anonymous tip" of the royal visit.
The Princess flew from Heathrow and landed at Palma airport. She then took a private taxi to Deia.
During her trip she stayed at the Hotel La Residencia in Deia, which was owned by her friend Richard Branson at the time.
The Princess spent three days at the hotel and some people even thought she might have been planning to buy her own home in Mallorca.
The secluded hotel is surrounded by citrus trees and olive groves and other celebrity visitors over the years include the King and Queen of Spain, Robbie Williams and Michael Douglas.
Princess Diana also holidayed on the island before her marriage to Prince Charles, spending many summers at the Castilla Majorca.
Castilla Majorca translates to Castle Majorca in English and has a swimming pool, extensive gardens and terraces.
The stunning property overlooks the sea and has a private cave and a pontoon for 30 metre yachts.
Series five of The Crown is expected to cover the breakdown of the marriage of Prince Charles and Diana.
The crew will be shooting in several locations in Mallorca and some of the scenes will apparently be filmed at sea.
Expected filming locations include Serra de Tramuntana and Sa Calobra in the Municipality of Escorca.
The new series will star Imelda Staunton as The Queen and Elizabeth Debicki as Princess Diana.
Source: Read Full Article