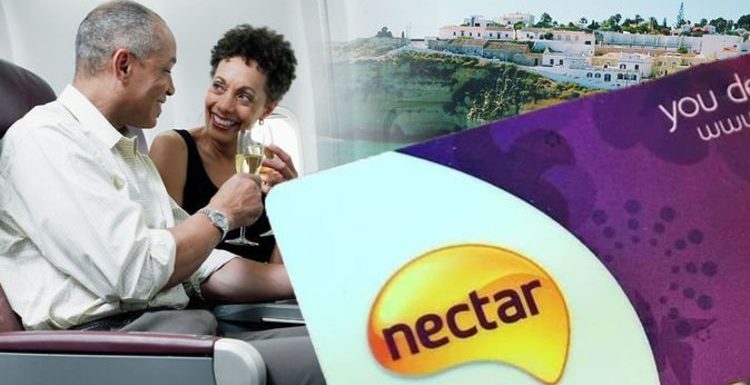 Flights: Expert reveals how to get a free upgrade
We use your sign-up to provide content in ways you've consented to and to improve our understanding of you. This may include adverts from us and 3rd parties based on our understanding. You can unsubscribe at any time. More info
Being bumped up to business or first class may sound like a dream to most airline passengers, but while this move is rare, it does still happen. Frequent fliers tend to be the first in line for these upgrades, trading their airline loyalty for a cabin upgrade when the opportunity arises. However, according to head of The Points Guy UK (TPG), there are some ways less regular travellers can still boost their chances of upgrade in the future.
One of the best ways to do this, he says, is by earning points.
Mr Kelvin said: "You don't need to be a frequent flyer or even fly at all to earn points."
In fact, one of the easiest ways to earn these points is simply by doing your weekly shop or filling up your car with petrol.
TPG UK's expert explained: "You can earn a huge amount of points through credit cards, shopping portals and supermarket loyalty programmes like Clubcard and Nectar."
Nectar points can be earned when shopping at the likes of Sainsbury's, Esso, Asos, eBay, and Expedia.
At the beginning of 2021, Nectar joined forces with Avios, allowing customers to convert their points in order to use them towards flights with British Airways.
Customers can link their Nectar and British Airways Executive Club accounts.
This means Nectar points, perhaps collected from your weekly shop, can be put towards flights with British Airways, as well as upgrades, hotel stays, car hire and more.
Under the scheme, 400 Nectar points collected can be converted into 250 Avios.
Similarly, Tesco Clubcard also allows customers to convert their points into Avios.
One Tesco Clubcard point is worth 2.4 Avios points.
DON'T MISS
UK passport makes it to top 10 most powerful after Brexit [DATA]
Britons unaware of hidden perk to save fortune in Spain [INSIGHT]
10 costly airport mistakes experts warn Britons to avoid – how to save [ADVICE]
Avios points can also be built up over time when flying or booking through British Airways or a partner airline.
Mr Kelvin said: "British Airways offers upgrades with miles but with some key conditions, the most onerous is that there must be a reward or redemption seat available on that flight in order for you to use your Avios to upgrade to it."
Avios points can also be used as part of Are Lingus' Are Club, Vueling's Vueling Club and Iberia's Iberia Plus.
However, as Mr Kelvin pointed out, points don't always necessarily mean a free cabin upgrade.
He said: "Using points, rather than cash, can be a very cost-effective way to move to a superior cabin.
"The problem is that upgrades can be much harder to secure, even if you are willing to part with a chunk of miles to do so."
Virgin Atlantic also offers its own points scheme, however, this does not work in partnership with retailers.
The Virgin Atlantic Flying Club miles must be earned by becoming a member and flying with Virgin or a partner airline.
Mr Kelvin said: "Virgin Atlantic has a similar process for upgrading with Flying Club miles.
"You will need to find full award availability for the upgraded seat first and then use Flying Club miles to upgrade online or by phone."
However, other airlines do handle upgrades slightly differently for passengers who have collected enough points.
Mr Kelvin explained: "Some other airlines like Qantas allow their frequent flyer members to submit an upgrade with points request at any stage and then process upgrades at the last minute for any unsold premium cabin seats.
"Airlines do this in order of status and ticket type, meaning if you don't have any status and are on a cheap ticket type, you are unlikely to be successful in an upgrade bid on popular routes like London to Sydney. But at least you will only have the points deducted if your upgrade is successful."
While points do offer one way of earning an upgrade, Mr Kelvin points out there is no certainty that it will happen.
Instead, the best way to secure a premium seat is simply by paying for it – though it won't come cheap.
He said: "The absolute easiest way to ensure an upgrade is simply to pay for it.
"If you've already booked a cheap seat and are considering paying extra to ensure a more comfortable one, you should be able to upgrade to a higher class either on the airline's own website or by calling them and paying the fare difference.
"Be aware that the cost may be substantial — to change from a discount economy up to a first-class ticket on a long-haul flight could be 10 times the price."
Source: Read Full Article