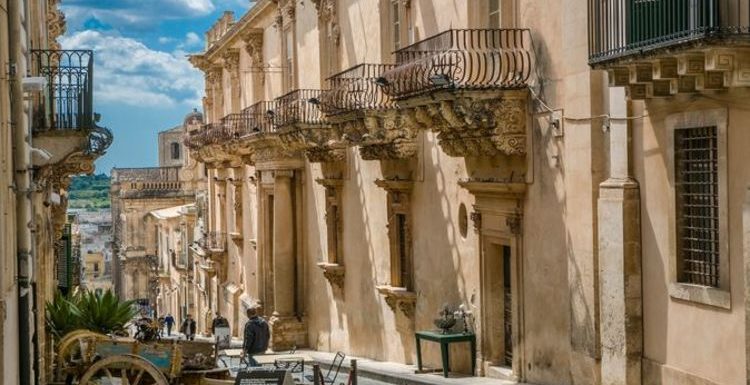 Grant Shapps warns travellers to hold off on booking travel tests
We use your sign-up to provide content in ways you've consented to and to improve our understanding of you. This may include adverts from us and 3rd parties based on our understanding. You can unsubscribe at any time. More info
It might sound hard to believe but some countries are willing to pay large sums of money to encourage people to move there. New research from William Russell has revealed the countries willing to pay people to emigrate.
Spain has always been an attractive option for British expats and is also one of the UK's most popular holiday destinations.
As Spanish people migrate from traditional villages to big cities, the places they've left behind are now willing to pay for skilled people to move there.
According to William Russell research, the town of Ponga in Asturias will pay families 3000 euros (£2,547) to help them settle in and an additional 3000 euros for every baby born in the town.
Rubiá in the Galician mountains in northern Spain, will supplement a person's income with an extra 100-150 euros per month.
In Italy, the medieval village of Candela will pay a single person 800 euros (£679) to move there. A couple will get 1,200 euros (£1,019) while a family receives up to 2000 euros (£1698).
The only catch is the person must apply for formal residency in Candela and have a salary of 7,500 euros (£6369).
For anyone with an Italian residency card or EU residents, the town of Santa Stefano di Sessanio will pay people 44,000 euros (£37,000) to settle there. Residents must be between the age of 18 and 40, open a business and stay for at least five years to qualify for the cash.
Calabria, the toe of the Italian boot shape has recently joined the scheme. It will pay residents between 800-1000 euros per month for two to three years. That adds up to a whopping 28,000 euros (£23,700) over the whole time.
For anyone with a home renovation dream, Italy's home for one euro (85p) scheme could be an attractive prospect.
At the price of just one euro, new homeowners could pick up a home in Sicily or in Sardinia.
Those taking part in the scheme must renovate their home, usually within about three years or face an annual fee.
Home to just 70 people, the island of Antikythera in Greece will give new families free housing, a plot of land to build on and a monthly allowance of 500 euros for three years.
Legrad in Croatia is also selling off cheap homes, at just one kuna (11p) per property. Although most need a lot of work, the state will chip in 4000 dollars (£2,938).
Those joining the scheme must be under the age of 40, financially stable and prepared to stay for at least 15 years.
Savvy entrepreneurs could also snap up a bargain by setting up their business in a new country.
Ireland has started an investment fund to attract entrepreneurs to the Emerald Isle.To qualify for Enterprise Ireland, a non citizen must register their company in Ireland, have the ability to create at least 10 jobs and one million euros of sales in the first three years.
The South American country of Chile is also funding budding entrepreneurs to move abroad.
Anyone with a good start up idea could apply for funding, incentives and acceleration programmes from Start Up Chile.
Any savvy business people who fancy life in an island paradise could get 20,000 Mauritian rupees (£345) to move their start up to Mauritius.
If the business hires a graduate from the SME scheme in Mauritius, their wage could be funded up to 14,000 Mauritian rupees (£241).
Source: Read Full Article