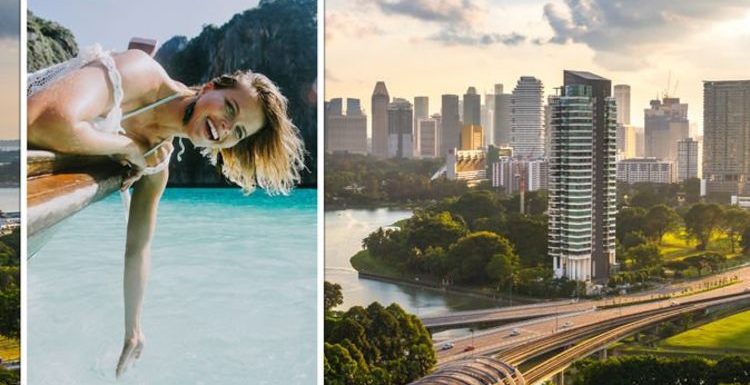 Prince Charles and Camilla visit Singapore in 2017
We use your sign-up to provide content in ways you've consented to and to improve our understanding of you. This may include adverts from us and 3rd parties based on our understanding. You can unsubscribe at any time. More info
British expats are all over the world, and while many choose to move to Europe, there were over one million Britons in far-flung Australia in 2019, according to the United Nations. With Australia, New Zealand, the USA, Canada or South Africa all in the UN's top 10 most popular destinations for British expats, distance from the UK did not seem to be an issue for Britons.
British expats who wish to move for the weather and cheaper prices may wish to look to South East Asia for their new lives.
Expatica compiled a list of the best destinations to move to in the region.
While South East Asia is popular for holidaymakers and younger expats, the experts at Expatica noted the "increasing connectivity and ever-improving digital infrastructure" of the region.
This made the region a great option for every type of expats.
Coming top for expats in South East Asia was, unsurprisingly, Thailand.
Chiang Mai was described as "expat-friendly" and capital Bangkok is a bustling city with plenty of opportunities.
For older expats and retirees, Expatica named Phuket and its beach resorts as one of the country's big draw.
In second place was Vietnam, which attracts expats to its cities, Ho Chi Minh City and Hanoi.
For something a bit different, however, the canal city of Hoi An and the beach resort of Da Nang should tick all the boxes for expats.
Coming third on the list was the Philippines.
With 7,000 tropical islands, there should be something for every expat in the archipelago country.
While security may be an issue in some part of the country, the friendly locals, cheap prices and tropical settings make the Philippines a good option for expats.
In fourth place was Malaysia and its capital, Kuala Lumpur.
With English widely spoken and the very modern Kuala Lumpur as attraction, Malaysia is pretty cheap for expats.
In fifth place was the kingdom of Cambodia.
Expatica said: "Most expats moving to Cambodia will head to Siem Reap, Phnom Penh, or Sihanoukville."
These will be where newcomers will find the most developed expat communities.
English is widely spoken in the cities and locals are welcoming to foreigners.
With plenty of history to discover, Cambodia is a fascinating country expats could fall in love with.
In sixth and last place was the city state of Singapore.
One of the most popular options for expats, Singapore attracts many with its skyscrapers and big job opportunities.
Singapore is the easiest transition for expats moving east, with good English being spoken, plenty of job opportunities and an extremely modern city.
There is a large expat community in the city too, so expats will be able to find a ready-made support network if they need it.
Best expat destinations in South East Asia
1. Thailand
2. Vietnam
3. The Philippines
4. Malaysia
5. Cambodia
6. Singapore
Source: Read Full Article