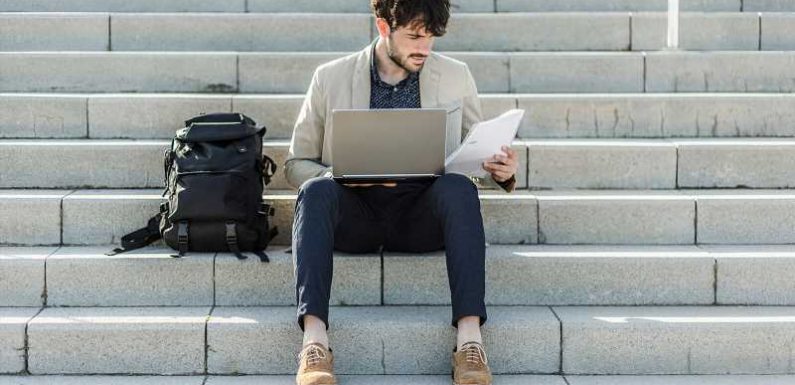 Your laptop sees a lot of handling while traveling — taking it out for the TSA screening, bringing it back out to squeeze in a few minutes of work in the lounge, repacking it to board, and so on. Getting a dedicated laptop backpack will make sure that your prized possession is kept safe and snug in its sleeve, and easily removed or returned when you need it to be.
Derek Meister of Best Buy's Geek Squad recommends travelers keep in mind five key considerations when buying a new laptop bag: protection, storage space, organization, comfort, and style. Most importantly, you'll want to find a backpack with a padded, laptop-specific pocket that's large enough to fit your machine, and maybe even waterproofing depending on your use.
Then, consider what else you'll likely be carrying and how a backpack can help keep you organized so that accessories aren't bumping into each other and smaller items won't get lost.
While a short commute may let you feel like you can get away with a less comfortable bag, you'll definitely start to notice if the straps dig in if you're adding a stroll around a new city to your afternoon. Make sure your straps are padded, adjustable, and can fit over a winter coat, if needed. And, of course, your favorite color might be a bonus.
We took all of these factors into account — and talked to a few seasoned travelers — to find the absolute best laptop backpack picks on the market.
Best All-in-one Laptop Backpack: Nomatic Travel Pack

Designed to carry all the gear you need for a weekend trip, the Kickstarter-favorite bag expands from 20L to 30L in capacity and is loaded with bonus features including hideaway convertible straps, magnetic side pockets, pass-through cable slots, a waterproof finish, and more.
To buy: amazon.com, $259
Best Anti-theft Laptop Backpack: Pacsafe 'Venturesafe' 25L

After being on the road for seven years, travel blogger Nina Ragusa is devoted to the Pacsafe Venturesafe for its inconspicuous design and extensive anti-theft features. (Think: interlocking zippers, slashproof fabric and straps, and RFID-blocking internal pockets.) "Unlike name brands with similar price points, these bags don't look like you spent a million bucks on them, which is a good thing." she said. You can even lock the bag to furniture in your room if you're leaving tech behind for the day.
To buy: amazon.com, $85
The Stylish-yet-comfortable Pick: Herschel Little America

Jenny Lachs of Digital Nomad Girls carries the Herschel Little America laptop backpack. "It was important for me to find a backpack that protects my laptop while looking stylish and [one] that also has enough space to carry all my other electronics and gear like an external keyboard, laptop stand, mouse, microphone, and headphones," she said. "The Herschel is perfect because it's beautiful and doesn't look like a typical laptop bag, just like a normal backpack. I also love how comfortable it is to wear, the straps are very padded and so is the back panel."
To buy: amazon.com, $101
Best TSA-friendly Laptop Backpack: SwissGear ScanSmart

This pocket-loaded SwissGear backpack includes a laptop compartment that unzips from the rest of the bag to minimize hassle in airport security. It's a clear crowd favorite, with more than 5,000 five-star reviewers on Amazon.
To buy: amazon.com, from $75
Best Charging Laptop Backpack: KROSER Laptop Backpack with Charger

This backpack by KROSER comes with a built-in USB port, plenty of pockets, and super-smooth zippers. The stylish nylon pack includes a portable charger for phones and reinforced edges, which keep your laptop secure and sufficiently padded on-the-go.
To buy: amazon.com, from $27
The Amazon Best-seller: Matein Travel

This budget-friendly pick is the Amazon top seller in this category and has a separate laptop pocket along with plenty of other storage space, USB charging cord, and luggage strap to attach it to a carry-on handle.
To buy: amazon.com, from $38
Best for 15-inch Laptops: Samsonite Xenon

This sleek backpack is just as stylish as it is functional. It features a padded compartment that fits laptops up to 15.6", as well as several other convenient pockets that allow you to keep all your travel essentials within reach. Air mesh panels on the back of the bag and straps make it impressively comfortable to carry.
To buy: amazon.com, $61 (originally $68)
Best 17-inch Laptop Backpack: TIMBUK2 Authority

The Timbuk2 Authority can hold up to a 17-inch laptop in its padded compartment. It comes with plenty of special features, including a rear access laptop pocket, a water-resistant bottom boot, a removable sternum strap, an Airmesh ventilated back panel, and more for ultimate comfort and convenience anywhere.
To buy: amazon.com, $139
Most Durable Laptop Backpack: Thule Subterra

The Thule Subterra Backpack is perfect if you're traveling with a lot of tech that you want to keep safe. In addition to the 15.6-inch padded laptop compartment, there's also a padded tablet sleeve, as well as an expandable zippered side pocket for small items or a water bottle. This pack also guarantees all charging cords stay neat and tangle-free.
To buy: amazon.com, from $90
Best Budget-friendly Pick: KROSER Laptop Backpack

KROSER is a brand that Amazon shoppers love (this bag has nearly 1,000 positive reviews), and it's easy to see why. This stylish grey backpack with brown leather details is perfect for business travel with its 17.3" laptop compartment and variety of other convenient pockets. Plus, the bag is made from environmentally-friendly poly fabric that's durable and water-repellent.
To buy: amazon.com, $34
The Best Rolling Laptop Backpack: Kenneth Cole Roll-on

New York magazine's shopping guide, the Strategist, recommends this Kenneth Cole rolling backpack, which has four wheels for extra versatile maneuvering and can hold up to a 17-inch computer.
To buy: amazon.com, $82
Best for Avid Travelers: Tortuga Setout Laptop Backpack

This clever laptop bag by Tortuga was designed specifically with the traveler in mind. It has a sleeve for a laptop up to 15 inches and a tablet up to 9.7 inches, and tons more features that will make carrying your essentials easy, like a luggage handle pass-through and a zip-flat water bottle pocket. The bag's front panel can also unzip so that it's totally open, like a suitcase would, to make packing a breeze.
To buy: tortugabackpacks.com, $125
Best Laptop Bag for Adventure Trips: Deuter Stepout 16

Consumer education and travel writer Janice S. Lintz carries the Deuter Stepout 16. "The bag has a storage compartment in the back for documents and laptops, but the Airstripes [ventilation system] meant that I didn't sweat when I lugged it while traveling," she said. "The pack has extra stability, and I found my back didn't hurt from the bag on my recent seven-week trip to Africa, compared to my former inexpensive backpack. For me, skimping on a pack is a no-no since I will pay for it in the long run with my back."
To buy: amazon.com, $72
Best Waterproof Laptop Backpack: Fjallraven Kanken

Kid & Coe Director of Marketing and Communications (and bike commuter) Laura Hall swears by her Fjallraven Kanken laptop backpack, which fits a 13-inch device. "The backpack is durable, waterproof, windproof, has a protective pocket and looks great," she said. "I live in Copenhagen where design is important; this one is the best."
To buy: nordstrom.com, $80
Best Covert Camera and Laptop Backpack: Pacsafe Metrosafe LS450 25L

Photographer Jimmy Chan of Pixelicious is also a Pacsafe fan and recommends the Metrosafe LS450 25L. "All of my shoots are done on location so I regularly bring my laptop along for retouching," he said. "This also means that my backpack carries expensive equipment that I don't want to advertise, especially when walking through crowded environments."
To buy: zappos.com, $130
Best Convertible Laptop Backpack: Samsonite Mobile Solution Convertible Backpack

Dozens of shoppers have raved online about how stylish and practical this convertible backpack from Samsonite is. The pack, which can be carried in five different ways, fits most 15.6-inch laptops and multiple exterior pockets designed for easy organization. One reviewer praises the backpack's "sleek, stylish design with plenty of room for your laptop, plus other smaller personal items." The reviewer goes on to say the pack's ample storage space and extra straps make her travel-heavy lifestyle easier.
To buy: ebags.com, $100
Best Leather Laptop Backpack: Kenneth Cole Reaction

If only the finest laptop backpacks will do, consider Kenneth Cole's Reaction backpack. The top-tier pack features a full-grain Colombian leather exterior and a tear-resistant interior, which are made to stand the test of time. Shoppers can easily slip their 16-inch laptops, passports, credit cards, and more into the backpack's RFID-blocking pockets.
To buy: amazon.com, $150
Love a great deal? Sign up for our T+L Recommends newsletter and we'll send you our favorite travel products each week. 
Source: Read Full Article