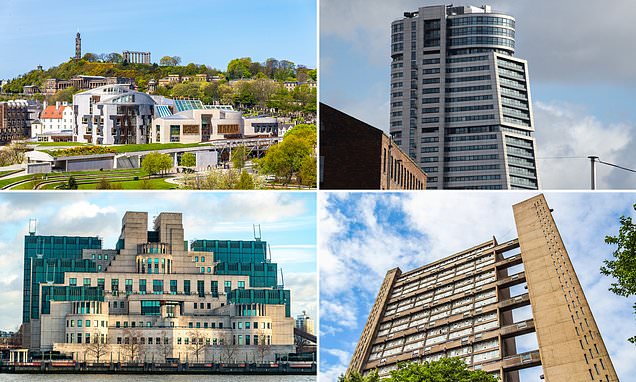 The 10 ugliest buildings in the UK revealed, from the Scottish Parliament to Preston railway station – and another structure derided as looking like 'a gleaming set of ovaries'
The ranking has been drawn up using analysis of Twitter comments 
The  building in the No.1 spot has the most tweets deriding the design 
READ MORE: Airbnb's most-liked homes on Instagram in 2022 
They're the buildings blighting Blighty.
The UK's 10 ugliest buildings have been named – and ranked – with structures including the Scottish Parliament Building, Preston railway station and one of the most expensive residential blocks in Britain all making the architectural hall of shame.
The ranking has been drawn up by Buildworld, using analysis of Twitter comments.
Buildworld said: 'We built a seed list of buildings from authoritative rankings of the ugliest buildings. These included all previous winners and nominees of the UK's Carbuncle Cup.
'We then searched Twitter for the name of each building plus a set of keywords to obtain all tweets that reflected the public's opinion regarding its design. The gathered tweets were filtered to ensure they talked about the design of the buildings. We used an AI algorithm from HuggingFace to extract the sentiment from the collected tweets, and then we ranked the buildings based on the percentage of tweets that were negative for each of them.'
Scroll down to see the full list in reverse order. The further you scroll, the more potent the eyesore…  
10. The Shankly Hotel, Liverpool
In at No.10 is The Shankly Hotel with 10.8 per cent of tweets about it maligning the design. Rooms there cost from £73 a night
9. Balfron Tower, Tower Hamlets, London
Coming ninth is the Balfron Tower by Hungarian-born modernist architect Erno Goldfinger. Twitter users don't generally approve of its looks, with 10.87 per cent of tweets criticising its aesthetics. However, the tower's website describes it as 'a bold, sculptural presence in London's East End' and 'one of London's most prominent post-war residential buildings'
8. Redcar Beacon, Yorkshire Coast
Redcar Beacon is a 'vertical pier' that stands 80ft tall on Redcar's seafront. The structure's website says that it offers visitors the chance to enjoy 360-degree views of the coast. But 11.94 per cent of the tweets about it mock the design
7. Bridgewater Place, Leeds
This mixed-use skyscraper in Leeds has had a very mixed reception, with 12.14 per cent of tweets slating its looks
6. One Hyde Park, Knightsbridge, London 
One Hyde Park is one of the most expensive residential properties in Britain, with prices for apartments starting at around £20million. However, lots of Twitter users don't think it looks the part, with 13.15 per cent of tweets expressing hostility to the design
5. MI6 Building, Vauxhall Cross, London
Licence to disappoint: It's Britain's least-secret secret building – the extremely famous headquarters of the country's Secret Intelligence Service, or MI6, for James Bond fans. As well as the location, its controversial looks are no secret either. The Buildworld study found that 14.11 per cent of tweets about the building lambast its architecture
 4. Royal Liverpool Hospital  
This teaching and research hospital is ill-conceived in the eyes of many Twitter users, with 14.5 per cent of tweets denouncing its aesthetics. Picture courtesy of Creative Commons 
3. Preston Railway Station 
The looks of Preston Railway Station are not on the right track for many, with 20.24 per cent of tweets about the structure railing against its design. The main issue appears to be a modern ticket hall that's out of kilter with the Victorian heritage of the structure
2. Newport Railway Station, Newport, Wales
Newport Railway Station has been derided by many, with 25.73 per cent of tweets attacking its design. One person likened it to 'a giant gleaming set of ovaries'
1. Scottish Parliament Building, Edinburgh
It's the home of Scottish democracy but, according to Twitter, something of an eyesore. The Scottish Parliament Building is way out in front when it comes to garnering critical tweets, with 42.07 per cent knocking the architecture, according to the Buildworld study. Inside it 'feels like a cave', according to former MP and chair of Glasgow's Festival of Architecture and Design, Des McNulty
Source: Read Full Article