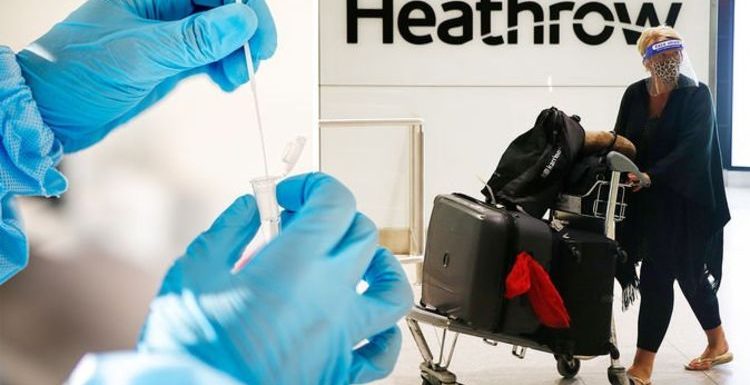 James Cleverly says no hotels are signed up for quarantine
Holidays were given a boost last year when the Test to Release scheme was unveiled, allowing jet-setters arriving in the UK to half their quarantine period. However, a travel expert has today said he "understands" the scheme is to be scrapped. This comes after the Government confirmed yesterday that hotel quarantine will come into force on February 15 for 33 'red list' countries.
Paul Charles, CEO of travel consultancy The PC Agency, also claimed Covid testing will be ramped up for arrivals with two tests to be carried out during the self-isolation period.
The expert posted on Twitter this morning: "I understand #TestToRelease is to be abandoned from February 15 as the government enforces two more PCR swab tests for all those entering the #UK.
"Tests will be done on days two and eight of 10-day #quarantine.
"Regular testing will be with us for some time."
We will use your email address only for sending you newsletters. Please see our Privacy Notice for details of your data protection rights.
The Government has not yet released any information on this – and the Test to Release information page online remains unchanged.
It still states: "Anyone who arrives in England from outside the UK, Ireland, the Channel Islands or the Isle of Man needs to self-isolate for 10 days.
"Under the scheme, you can choose to pay for a private COVID-19 test. If the result is negative, you can stop self-isolating.
"You cannot take a test until you have been in England for five full days."
The Department for Transport continues: "The scheme is voluntary and applies to those self-isolating in England only.
"If you do not want to opt into the Test to Release scheme, you will need to self-isolate for 10 days."
Currently, the scheme cannot be used for the countries on the UK's "red list".
These are a list of countries which are banned from entering the UK but British and Irish Nationals, or third country nationals with residence rights in the UK will be able to enter.
Banned countries
Angola
Argentina
Bolivia
Botswana
Brazil
Burundi
Cape Verde
Chile
Colombia
Democratic Republic of the Congo
Ecuador
Eswatini
French Guiana
Guyana
Lesotho
Malawi
Mauritius
Mozambique
Namibia
Panama
Paraguay
Peru
Portugal (including Madeira and the Azores)
Rwanda
Seychelles
South Africa
Suriname
Tanzania
United Arab Emirates (UAE)
Uruguay
Venezuela
Zambia
Zimbabwe
On Friday, the Department of Health and Social Care (DHSC) confirmed: "From February 15 anyone travelling to the UK from a country on the UK's travel ban list will be required to quarantine in a government-approved facility for a period of 10 days."
Further details will be set out next week on how passengers will be able to book into the designated accommodation facilities.
A DHSC spokesperson said: "Throughout the pandemic, the government has put in place proportionate measures, informed by the advice of scientists, and that has led to some of the toughest border regimes in the world.
"It is currently illegal to go on holiday, and passengers travelling to the UK must provide proof of a negative test before they travel, and self-isolate on arrival. With increased police presence at airports and more physical checks at addresses to make sure people are self-isolating, we are taking decisive action."
Express.co.uk has contacted the Government regarding the Test to Release scheme.
Source: Read Full Article