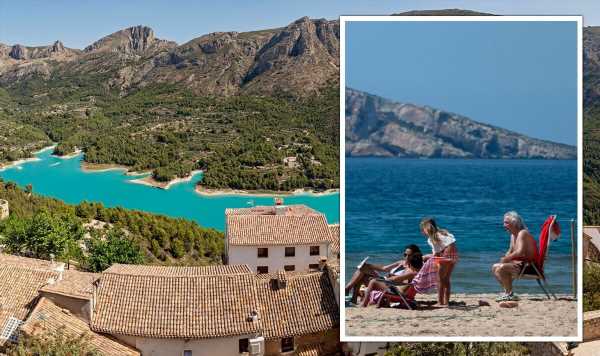 We use your sign-up to provide content in ways you've consented to and to improve our understanding of you. This may include adverts from us and 3rd parties based on our understanding. You can unsubscribe at any time. More info
Holiday search engine Holidu, using data from World Weather Online, revealed the cities in Spain with the most sun hours per month.
Alicante
Alicante is a very popular destination among Britons and has an average of 349 hours of sun per month.
Located on the Costa Blanca coastline, Alicante offers expansive beaches, restaurants and bars, and a vibrant nightlife scene.
However, for those who are looking for a quiet and relaxing holiday and want to stay away from the party scene, Alicante has other interesting spots to offer.
Many Tripadvisor users who recently visited the town recommended Guadalest Valley, located outside Alicante.
User 'kcoers' said: "Insanely beautiful. Located a short drive from the hustle and bustle of Benidorm, Guadalest Valley is a jewel."
Another one, 'M4860QLkimp', commented: "Fantastic scenery. Took a day trip to Guadalest Valley with friends and enjoyed the views, the lovely walks and lunch in the restaurant. Visited the museums and craft shops. To visit the castle you walk through the church there is a small charge of four euros. Well worth a visit with friends and family."
To get to Guadalest Valley from the centre of Alicante, holidaymakers have to take the tram to Benidorm and then a local bus.
Alternatively, it takes just one hour by car.
Murcia
The second sunniest spot in Spain is Murcia, in southeastern Spain.
The coastal part of the region is actually known as the Costa Cálida due to its micro-climate which makes its waters warm all year round.
Besides its beautiful beaches, the city also has a stunning historic town centre.
Malaga
The third spot with more hours of sun a month is Malaga, in the Costa del Sol.
Malaga is the perfect city break with a beach option for those who want to explore the architecture and cultural scene of the south of Spain.
Valencia
Valencia comes in as the fourth sunniest city in Spain with an average of 343 hours of sun per month every year.
Located on the southeastern coast of Spain, the port city is also a perfect option for travellers who want a city break combined with a beach escape.
Las Palmas
In Spain's Canary Islands, situated just off northwestern Africa, Britons will find Las Palmas, the largest city in the volcanic islands.
Temperatures in Las Palmas average at 21 degrees in October and November.
Sunniest cities in Spain
Alicante
Murcia
Malaga
Valencia
Las Palmas
Granada
Seville
Zaragoza
Barcelona
Palma de Mallorca
Source: Read Full Article