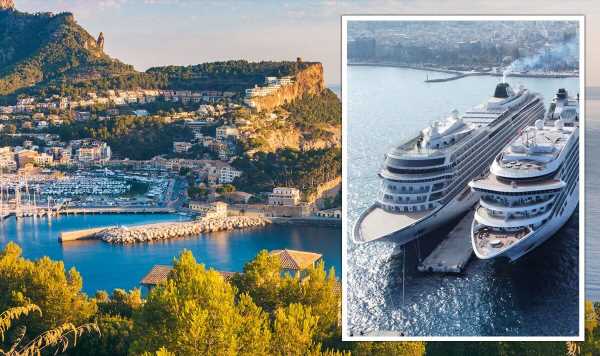 We use your sign-up to provide content in ways you've consented to and to improve our understanding of you. This may include adverts from us and 3rd parties based on our understanding. You can unsubscribe at any time. More info
The regional Government of the Balearic Islands, which includes Majorca, Menorca and Ibiza, and the shipping companies have signed an agreement following two years of talks, which limits the number of cruise ships allowed in the island.
The document states that from 2022, only three cruise ships are allowed to arrive in Palma on the same day.
In addition, only one of them may have a capacity of more than 5,000 passengers.
This translates to only one mega cruise ship and two smaller allowed in Palma de Mallorca on the same day, which means a huge reduction in the number of stopovers that will also affect the number of visitors.
A spokesperson for the Balearic Island Government explained: "The Government and the main shipping companies in the world that operate in the Balearic Islands have signed this afternoon in Palma the document that includes all the aspects agreed upon last December in Hamburg and that represents a historic collaboration with the sector to achieve a effective regulation in the arrival of cruise ships to the Balearic Islands.
"In this way, the islands are defined as the second destination in the Mediterranean – the first was Dubrovnik – to achieve a commitment of this type, which is already being effective this year, in which the port of Palma will manage to flatten the peaks of activity."
The cruise tourism contributes more than 500million euros (around £427,525million) to the Balearic Islands annually and generates more than 4,000 jobs.
'More to follow…'
Additional reporting from Rita Sobot
Source: Read Full Article