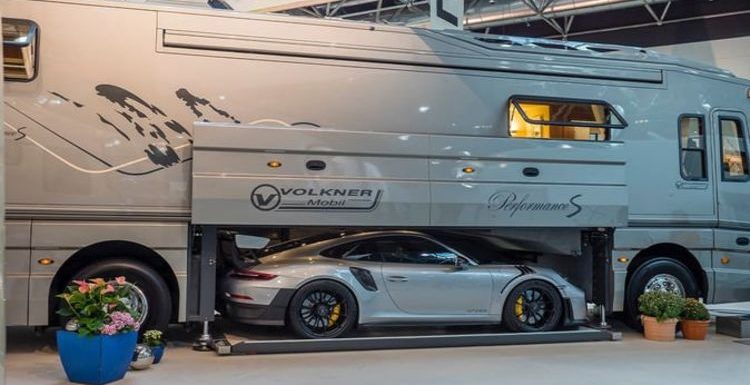 Million Pound Motorhomes: Expert offers tour inside vehicle
We use your sign-up to provide content in ways you've consented to and to improve our understanding of you. This may include adverts from us and 3rd parties based on our understanding. You can unsubscribe at any time. More info
Million Pound Motorhomes is a Channel 5 series exploring the world of luxury motorhomes. While Britons may be used to the traditional caravans for a camping trip, motorhomes can also give holidaymakers a five-star experience.
In tonight's episode, actor Ricky Tomlinson goes in search of his old beloved motorhome.
The series also follows Charlie, the multimillionaire owner of the largest plumbing company in the UK, who is looking to buy his first motorhome to travel around the country.
They both look for incredible caravans that can provide a five-star experience.
However, the motorhomes they view have nothing to do with the "finest conversion in the industry": the Elegant Lady.
The 2017 Elegant Lady is a luxurious motorhome based in the US that has a price tag of £1.8 million.
In the US, over 40million people regularly enjoy the open road onboard a caravan or motorhome.
Considered the "finest conversion coach in the industry", the Elegant Lady can be operated by wireless or remote iPad control system.
The luxury motorhome features LED lighting and heated flooring.
The living room has a breakfast bar with two fixed chairs, a large galley sink system, 220-volt two burner cook-top and a full laundry stack.
If that wasn't enough it also has a 55 flat screen that rotates from the ceiling.
The master bedroom includes a leather closet, king-size bed, and mirrored ceilings.
But opulence doesn't end there.
In fact, even in the bathroom, no expense is spared.
The incredible bathroom featured an extra-large granite and marble shower.
Many consider the million-pound motorhome a "hotel on wheels".
And some are actually looking for that, a "Downtown Abbey on wheels" as Charlie said during today's episode.
At the moment, there are over 60,000 people living in motorhomes in the UK.
Britons willing to pay almost £2million can opt for this luxury accommodation which is currently on sale.
Source: Read Full Article