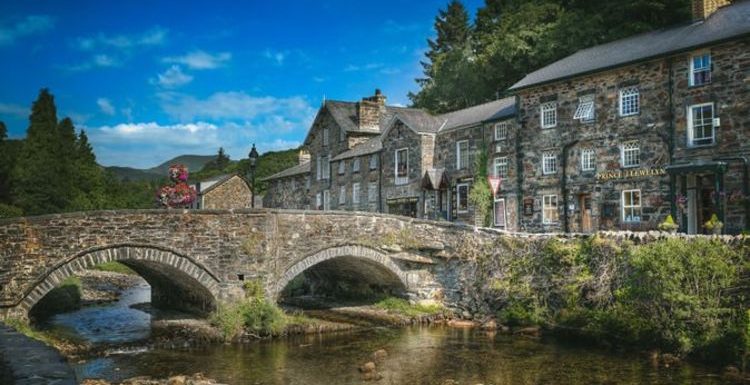 Snowdonia: Footage shows rubbish at beauty spot
We use your sign-up to provide content in ways you've consented to and to improve our understanding of you. This may include adverts from us and 3rd parties based on our understanding. You can unsubscribe at any time. More info
A small Welsh village has been named fourth most beautiful place in the UK. With a population of less than 500, the picturesque location made the Daffodil Hotel's most beautiful escapes list.
Nestled in the Snowdonia area of North Wales, Beddgelert has not only been listed as one of the most beautiful places in the UK by experts, it's also getting a lot of love from visitors.
At the confluence of the Glaslyn and Colwyn rivers, the village has an often-photographed bridge, trails aplenty and is a getaway to the Snowdonia mountains.
The village has been often lauded for its beauty and has won multiple Village in Bloom contests.
Beddgelert has its very own legend and visitors can visit Gelert's Grave, a faithful hound of medieval Welsh Prince Llewelyn the Great.
READ MORE: Cruise Covid strict rules are 'here to stay'
The hound was killed by the prince who thought his faithful dog had killed his infant son.
In fact, the hound had saved the heir from a wolf, and the Welsh prince, full of remorse, "never smiled again."
There are plenty of legends surrounding Beddgelert.
Buried treasures, dragons and princes are part of the fabric of the village.
This is also where the illustrator of the Rupert Bear stories lived.
The stories were published in the Daily Express for 40 years.
Most visitors have nothing but praise for the "cutest Welsh village".
On Tripadvisor, Anna wrote: "The cutest Welsh village. It's worth a visit whilst you're in the area."
CockneyBrum said: "This is a stunningly beautiful Welsh village. Our train stopped here, so we had a short while to explore the town.
"There are some great photo opportunities pretty much everywhere you roam.
"Our visit was far too brief. We will return!"
MapleT2 said: "Unblemished and Unsullied. Send me here any day!
"Superb ambience and immaculate village.
"The pristine sound to flowing water, clean air and greenery makes this little village heaven on earth."
And Catherine N wrote: "Idyllic village with an interesting albeit sad story behind its name, would recommend reading about it and visiting Gelert's grave!
"Lots of lovely walks nearby, great choice for places to eat, and lots of local shops to explore."
Britons who wish to visit the village can drive or take the train.
Beddgelert is one of the stops on the Welsh Highland Railway from Caernarfon to Porthmadog, so it is easily accessible to visiting Britons holidaying or living in Wales.
Source: Read Full Article