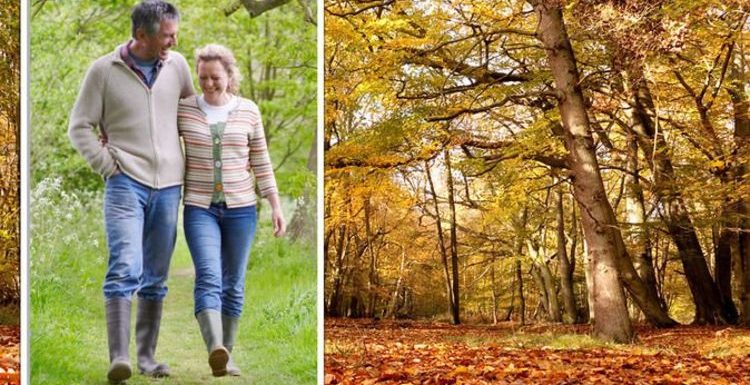 Boris Johnson urges Brits to enjoy more outdoors exercise
We use your sign-up to provide content in ways you've consented to and to improve our understanding of you. This may include adverts from us and 3rd parties based on our understanding. You can unsubscribe at any time. More info
With the hues turning golden this time of year, there is no better time to go for a wander. Outdoorsy Britons looking for some hidden gems inspiration are in luck.
Experts at Millets have put together their five favourite walks to take this season.
The routes are not difficult and can be enjoyed by all, no matter their fitness levels.
From as little as one hour to a three-hour walk, these are the best hidden gems when it comes to forest walks.
The first walk the experts recommend is a short 4.4km easy walk through the forest.
Taking just an hour, Britons can go to Burnham Beeches in the Chilterns.
On Google, Marcin Hernik commented: "Incredible place!"
READ MORE: 'Incredible scenery' and Northern Lights: 'Wonderful' UK staycation
And Aida Clicks wrote: "This place is a dream, we had such a beautiful long walks around the area."
Burnham Beaches is both a National Nature Reserve and a Site of Special Scientific Interest.
There are more than just the trees to look at in the reserve.
The reserve is also home to sites of archaeological interest, such as a hill fort.
Scotland is also fantastic for forest walks.
Drummond Hill is part of the Tay Forest Park, the first planted forest in Scotland, which dates back to the 17th century.
This is the longest walk at 9.5km, and it will take Britons two and a half hours.
The walk is rated moderate in difficulty, as there is one section of narrow dirt path.
Britons can also visit Black Rock and enjoy fantastic views over the mountains, including Ben Lawers.
Of the views, Cameron Davidson said: "Absolutely spectacular view over the Loch Tay and Kenmore."
In the Scottish Highlands, Britons can go to Glen Affric – Dog Falls Circular Walk.
The 6.4km countryside walk is rated moderate and should take around two hours.
The series of waterfalls are in the Glen Affric National Nature Reserve.
Britons should keep their eyes peeled for golden eagles, deer and endangered wildcats.
On Google, Stewart Leslie said: "Splendid scenery, fresh air and wildlife for a walk in Glen Affric."
Cathy Turnbull advised: "Just beautiful. Go in autumn for the colours."
Friday Street and Leith Hill Circular Walk in Surrey is 8.2km and takes up to three hours to complete.
Going through the valleys of the Surrey Hills, Britons can go to Tillingbourne waterfall for a short detour.
Of the walk, Google user Bruce Banner said: "Probably my favourite place to walk with amazing views and even better as the sun sets."
And Nek Kaz said: "I don't know which I enjoyed the most. The journey through the beautiful English nature or the amazing view of the hill. It is a place you must visit and enjoy a lovely day outside."
Symonds Yat Rock and the Wye Valley, Herefordshire Circular Walk is 5.7km and takes up to two hours.
The starting point at the top of Symonds Yat will give Britons an amazing view over the Wye Valley.
On Tripadvisor, Oscar T said: "It was spectacular to take in.
"You can take the Highmeadow trail down to the bottom and walk along the River Wye. Eventually it will take you to Biblins Rope Bridge which was fun to cross. If you take the other route it will take you to the hand ferry to get across the other side of the river."
Source: Read Full Article