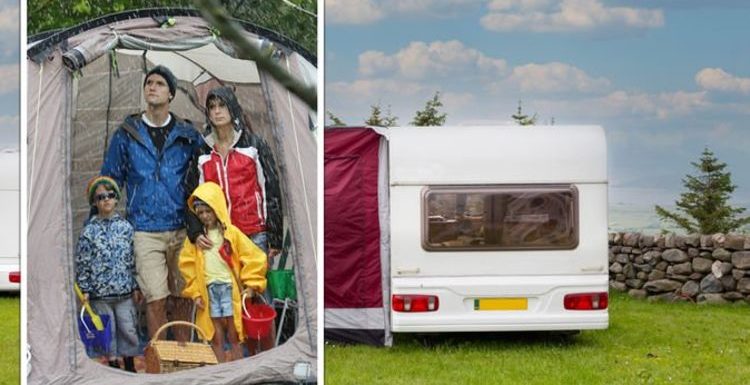 Holidays: Northern Ireland is 'amazing for camping' says expert
We use your sign-up to provide content in ways you've consented to and to improve our understanding of you. This may include adverts from us and 3rd parties based on our understanding. You can unsubscribe at any time. More info
Do Britons prefer sleeping under canvas or in a caravan? While many stayed in the country this summer and enjoyed a UK holiday in the great outdoors, it is now time to answer this very important question.
On social media, Beverley Davies asked a question that many camping Britons may have an opinion on.
She said: "Just putting this out there.
"What's the positive and negatives of camping versus caravan please."
And of course, Britons flooded the comments with their take on the pros and cons of both.
Graham Crane had a philosophical take on the question.
He said: "I would think with tent camping, you build the space you want to live in. With a caravan, that space is built for you, and you just fill it."
READ MORE: Cruise Covid strict rules are 'here to stay'
Some Britons, however, took a more rational approach.
John Nevaeh said: "Not as much condensation in a van. More heat in a van. In a van you can up and go any time. Less packing away, things are safe in a van. I'd get a van."
And Karen Jones said: "Big issue for me is if it's cold/wet/dark – you go inside a caravan but in a tent you grab a rug stay out (under canopy if raining!).
"Caravan obviously have more luxury but I'm defo happier now back in a tent. Not massive or luxurious just back with nature."
Many Britons preferred a tent.
Marie Lynch said: "Being out in the fresh air and under the stars, negatives putting up and putting down the tent."
Janah Taylor wrote: "Obviously you're better protected from the weather in a caravan and have more mod cons but personally I prefer a tent.
"I feel that really getting back to basics is really good for the soul, and it also tends to be far more social.
"Everyone sitting outside around fires in the evenings and the children playing.
"Whereas people in caravans tend to stay inside."
While Bernie Hickey owns a caravan, he still sleeps under the stars.
He said: "I own a caravan it sits at home on my drive, and we've been camping in a tent and had a caravan holiday this year.
"Camping is about outdoors and the joys of setting up, packing away, trying to fit it all in car using every swear word possible, telling yourself never again."
Paul Wiltshire said: "Tents, are cheaper go anywhere you don't need a big towcar."
Frank McArdle resumed it well: "Try putting a caravan on your back."
John Humphreys went further: "You can't store a caravan in the under-stairs cupboard."
On the caravan-loving camp, many Britons mentioned the weather.
Luke Catherin said: "Warmth, shelter and wind proof. I've done both but just bought a caravan. Much prefer it. Can have a bit more luxury even if it is a trailer on wheels."
Florentina Diaconescu wrote: "You experience the weather conditions differently to begin with. Caravan might give you some extra comfort or security to a tent. With a caravan you can camp easier in the cold season and not die to hypothermia, like I almost did when camping in – weather."
Gerald Quinn said: "Not worried about the weather in a van."
Most Britons seemed to be divided and liked a bit of both.
Cliff Marsh said: "Caravan – home from home. Tent – adventure. Both great!"
Tennek Llangiw wrote: "Done both, camping great for a long or short summer holiday, caravan better for cold and wet winters."
Source: Read Full Article