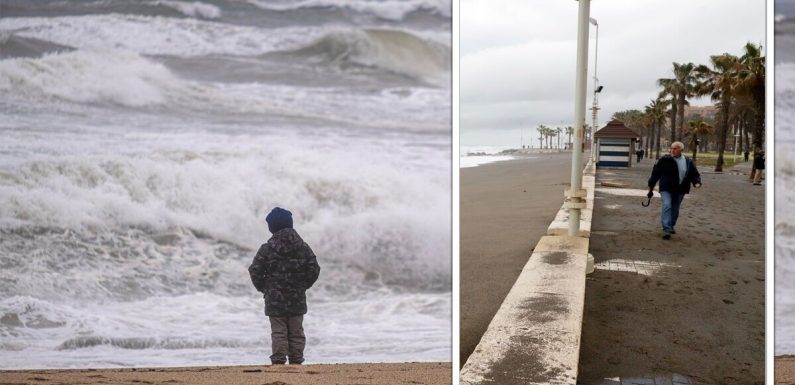 Snowdon guide caught someone 'going to the toilet' on railway
We use your sign-up to provide content in ways you've consented to and to improve our understanding of you. This may include adverts from us and 3rd parties based on our understanding. You can unsubscribe at any time. More info
British tourists holidaying in Spain's Costa del Sol are unfortunately in for some bad weather to kick off the weekend. Winds on the coast will be strong and there's likely to be heavy rain until Saturday afternoon.
An anticyclone will spread from the west of Spain to the east today bringing strong winds and wet weather according to a weather expert.
The Aemet weather agency has predicted cloudy skies and rain across the entire Malaga province.
A yellow weather warning has been issued for wind in Malaga city centre and across the Costa del Sol for Friday.
Tourists can expect gusts of up to 70 km per hour between midday and midnight in the area.
However, the weather is likely to improve on Sunday when most of the Costa del Sol will have clear skies.
Mountainous areas may still see some rain while the coast is likely to be windy until Sunday afternoon.
Meanwhile, the Canary Islands are expecting a wet weekend with heavy rain predicted on Saturday.
Tenerife, La Palma and Gran Canaria are likely to experience wet weather on Saturday although temperatures will still be warm.
The latest warnings follow a spate of bad weather in the popular Spanish holiday destinations.
Tourists holidaying in the Costa del Sol and Costa Blanca have faced stormy weather with heavy rain and wind.
Beaches in the popular resorts of Marbella, Fuengirola and Estepona all suffered damage during the storm.
Repairs are ongoing while tourism officials have called for more permanent defences to be introduced.
The Spanish resorts are expecting a busy summer season as they prepare for the revival of travel.
According to easyJet, over 30 percent of Britons are planning to holiday in Spain this year.
Benidorm, one of the UK's most popular destinations, has reported packed beaches and busy hotels.
Britons need to be fully vaccinated or have a Covid recovery certificate to travel to Spain while teenagers aged between 12-18 can use a negative PCR test if they are unvaccinated.
However, Britons have faced travel chaos at airports which may last into the summer months as the industry struggles with staff shortages.
Heathrow boss, Nigel Milton, said passengers were partly to blame for the lengthy queues over the Easter weekend.
He said: "What we have seen is that the rejects of hand luggage is about twice the level it was in 2019 because people have forgotten they've got to take liquids out, even though all the signs are there, even though we're saying it to them."
Tourists are advised to travel to the airport with lots of time to spare to make sure they can clear security for their flight.
Source: Read Full Article