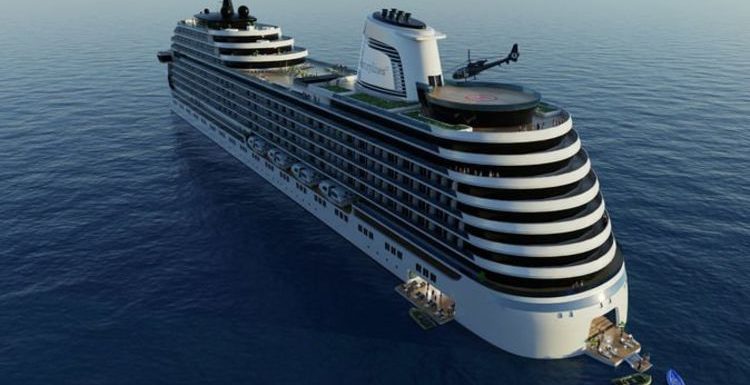 Cruises: Simon Calder explains new 'hot areas' on ships
We use your sign-up to provide content in ways you've consented to and to improve our understanding of you. This may include adverts from us and 3rd parties based on our understanding. You can unsubscribe at any time. More info
A cruise is a popular holiday choice with the prospect of an all-inclusive holiday to far-flung destinations. Living on a ship permanently may be the dream of every cruise-lover, and it's now possible.
Extended world cruises have become popular, but they come with a high price tag.
Cruise passengers who never want to get back to shore can now buy a residence on cruise ships.
Offering the option to live on a cruise ship for an extended amount of time, or even permanently, a new "residential community at sea" is launching.
Storylines is making living at sea "more affordable" for cruisers.
The line's boat, MV Narrative, launching in 2024, has fully-furnished one to four bedrooms residences.
It also has studios and two-story penthouses, with price starting from $400,000 (£293,543).
Prices go up to $8million (£5.87million) and the homes are available to buy outright.
Cruise-lovers can also buy a limited number of properties for 12 and 24-year leases.
Founder and CEO Alister Punton of Storylines said some of the 547 units have already been sold, with the ship on track to sell out by the end of 2022.
He said: "With a full outright purchase, the resident owners get a perpetuity clause, which means they are able to roll over into a new residence on a future ship without an additional purchase, making this a long-term investment."
And the homes can be rented too, "just the same as any other real estate investment".
MV Narrative will have 20 dining concepts and bars, a microbrewery ad three swimming pools.
There will also be a library, cinema, wellness centre, bowling alley and even a garden farm.
Passengers buying a property on the ship will be able to live their all-inclusive dreams at sea.
The ship's maiden voyage will be a 1,000-day trip across six continents in 2024.
To make the journey last longer, it will stop at each port an average of three to five days.
Alister said: "What a typical cruise line might do in one month or three weeks, we will take three to four months to do.
"So that's how much we extend the experience out. And they [residents] have opportunities to have input into where the ship goes next."
"Residents choice" days will let passengers decide the port of calls.
Cruises are attractive holiday options for their all-inclusive offerings, and Storylines will be no different.
On top of the property price, residents will be charged a "living fee" to cover expenses like food and maintenance.
It will range from $65,000 (£47,684) to $200,000 (£146,720) per unit per year.
Alister said: "Once you pay your fees, you can pretty much put your personal wallet or credit cards away and save for the rest of the year if you choose to."
The ship will have a full education program to cater to the families with children who live on board.
There will be a team of medical staff, a pharmacy and a post office.
Alister said that while would-be permanent cruisers are being interviewed to make sure they are a good fit, everyone is welcome.
He said: "Storylines is a true community, and a community needs everybody.
"You need different types of people from all walks of life to make that community."
Residents will be able to have guests onboard and will be able to rent out their unit when they're not using them, just like any other type of property.
Source: Read Full Article