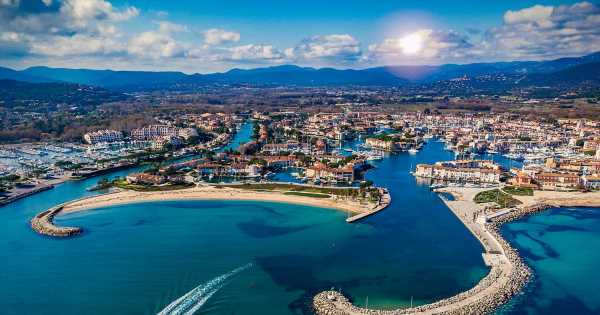 Plenty of holidaymakers jet off to Venice, in Italy, each year to walk around the floating city, travel on gondolas and admire the unusual landscape. However, it can be overcrowded, expensive and even, sometimes, a bit smelly.
Brits looking for a similar holiday won't have to miss out though as one French town has been dubbed the "Venice of France" on TikTok and boy, is it beautiful. Port Grimaud is a lakeside town with charming colourful houses, a beautiful beach and bright blue water.
While still lesser known in the UK, Port Grimaud is growing in popularity thanks to its laid back lifestyle, many canals and warm weather. Set in the French Riviera the floating town is a wonder of architecture and fun things to do for the whole family.
READ MORE: Mum leaves people 'astounded' as she slams French town because 'nobody spoke English'
The town is only 50 years old, but already endorsed as a modern heritage site. There are cottages and homes in every colour under the sun from blue to pink and orange. Plus, you can stroll alongside the canals and spot fishing boats, yachts and sailboats.
Grimaud is a "feast for the eyes" with Juliet balconies, painted frescos and facades from classical statues to the "Provençal lady" who keeps an eye on the bustling market square from above.
There's no need to hire a gondola – as in Port Grimaud you can jet ski out into the ocean and through some of the canal roads. Or, watch them coast by as you dine on the canals in al-fresco restaurants.
Not only that, but cars are banned in the coastal town so everyone moves around by foot, bike or water taxi. You can also hire individual electric boats so that you are the captain for a while!
Some of the buildings have beautiful stained glass windows like the Church of Saint-François d'Assise which had 25 windows that reflect the movement of the sun through the day – creating a unique experience every hour you visit.
There are also mosaics in the alleyways, a gorgeous fountain with a terrace and ceramic tiling plus a pretty wooden bridge. In fact, there are 14 bridges giving guests access to 12 islands in total.
The best view of the network of islands, canals and buildings is from the church's panoramic terrace. Tale the 78 steps to the top for just one euro for a breathtaking view from above.
You can also take boat trips, catamarans, a little train around the area to a medieval village, go parasailing, play golf, dine at the vineyards and even enjoy a massage.
Of course, for sun seekers there are also the beaches. You'll have views of Saint-Tropez which is just over the gulf, lay beside palm trees and chill out. There are multiple sandy bays some which are shaded by trees and others with plenty of water sports.
Guests can get stuck hire a jet ski, rubber ring rides, kayaks, wake-boarding, water skiing, sailing school, catamarans, pedalos, stand-up paddle boarding, parascending and more. Alternatively take a look at the picturesque lighthouse on Cigales beach.
But, Grimaud isn't just a hotspot for lovers of beauty or water. There are frequent events to enjoy too. Musical evenings are performed live from the various churches and chapels from classical music to opera.
During the summer months you'll find the Grimauldines – a festival filled with music and street art, light installations and dancing bands, huge animal puppets and traditional dancers and music from around the world and fireworks.
The Grimaud website states: "To truly capture the spirit of the Grimaldines festival, take a walk through the streets of Grimaud to the foot of the ancient château and cast your eye over the big blue expanse of the Mediterranean sea. A place to escape, where the sky blends into the sea.
Want the Daily Star's top travel stories and best deals straight to your inbox? Sign up to our free weekly newsletter here
"The people of Grimaud have opted for a festival with a difference, multiplying the programmes and placing the spotlight on journeys around the world. Melodic journeys, cultural journeys, exotic choreographies and many more wonderful surprises.
"Every Tuesday brings free shows and concerts, non-stop into the night. In the little village streets, passionate artists mingle with curious spectators while young hearts aged 7 to 77 exchange looks, laughter and celebration in the rhythmic warmth of the Grimaud night.
"Borders and blinkers disappear when Grimaud opens its doors to the world to welcome every single rhythm, style and accent."
Plus, there are dozens of restaurants from the waterfront to the medieval village or even the countryside. Sample the flavours of Provence or escape to a more exotic cuisine.
There's a little bit of everything on offer in Grimaud from French and Italian to Hawaiian, seafood, fried chicken, Thai, Mexican, Greek and even a pub. What more could you ask for?
A room in Grimaud will cost you from £83 in September for two adults on Booking.com. Or you can rent a mobile home at the Camping Domaine Du Golf De Saint Tropez for £48 for two – it even has a swimming pool.
The nearest airport is Toulon/Hyeres – you can get return flights from £95 on Skyscanner. Find out more at visitgrimaud.co.uk.
Source: Read Full Article