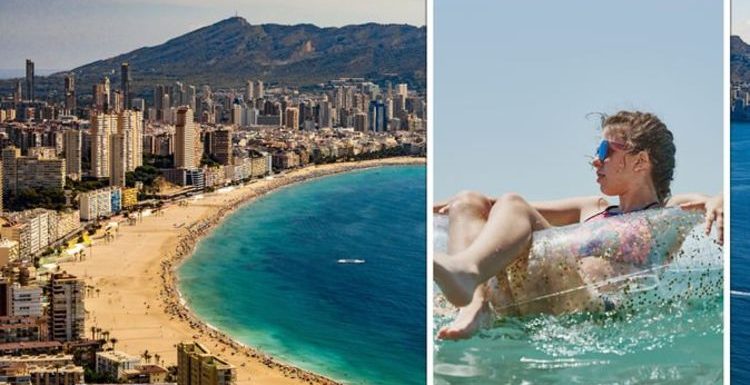 Spain: British expat questions enforcement of Covid passes
We use your sign-up to provide content in ways you've consented to and to improve our understanding of you. This may include adverts from us and 3rd parties based on our understanding. You can unsubscribe at any time. More info
Jetting off to Spain may be on the cards for Britons hoping for some sun later this year, but a holiday this year may be quite different to before the pandemic. Spain has imposed travel restrictions for Britons, requiring everyone over the age of 12 to be fully vaccinated with two doses.
Britons not put off by travel requirements may want to book a Spain holiday.
And where better to go to than Costa Blanca and the flagship resort town of Benidorm?
However, a holiday in Spain this year may look quite different to before the pandemic.
Apart from Spain's entry requirements, the Valencian Government plans to introduce a tourist tax on overnight stays.
Hotel association Hosbec said the tax would "destroy a sector that has suffered so much during the pandemic".
The association was not optimistic for 2022, reporting last year's average occupancy was only 61.3 percent, down from 84.2 percent in 2019.
For 2022, it expects more of the same, or it could be even worse, with last week's occupancy only 53 percent.
The forecasts before the Omicron variant was 80 percent.
Britons have been cancelling their holidays in droves and tour companies have followed suit.
In Benidorm, many hotels closed down over Christmas and New Year due to everyone cancelling.
Hosbec predicted "significant difficulties" for the year ahead.
Britons who go on a Spain holiday may find themselves faced with fewer hotels to choose from.
They may also enjoy less crowds, if the start of the year is anything to go by.
ABTA found Spain to still be the most popular destination for Britons.
In a survey, 30 percent of respondents said they planned to visit Spain this year.
Spain has recently its list of high risk countries and said the list will remain until January 16.
From February 1, vaccination certificates in Spain will be accepted "as long as the final dose of that course of vaccination was no more than 270 days ago".
The Government website continues: "From that time, the certificate must show the administration of a booster vaccination."
For a summer holiday in Spain, travellers will need to have been boosted.
A holiday overseas has been made easier with the UK Government scrapping the need for a pre-departure test before coming back to the UK.
Britons will also be able to take a lateral flow test instead of a Day 2 PCR test from Sunday 9 January at 4 am.
While European countries are keeping their travel restrictions, the UK is reopening and making it easier for holidaymakers to come back.
Source: Read Full Article