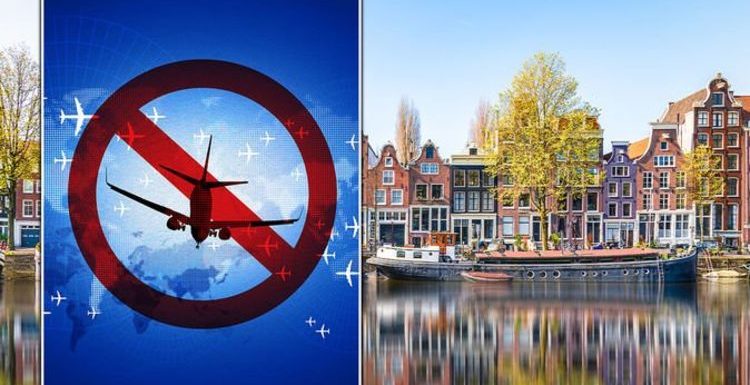 Travel ban: Epidemiologist says 'closing borders does not work'
We use your sign-up to provide content in ways you've consented to and to improve our understanding of you. This may include adverts from us and 3rd parties based on our understanding. You can unsubscribe at any time. More info
A surge in cases of the Omicron variant in the UK since early December 2021 has led to a number of countries banning travellers. These nations add to a list of countries that have banned British arrivals from travelling for tourism purposes throughout the pandemic.
Though Britons can still travel to some global nations, many now require evidence of full vaccination, a negative PCR test or both.
Travel requirements also see passengers visiting certain destinations having to fill out electronic health declaration forms.
The Foreign, Commonwealth and Development Office (FCDO) provides up-to-date travel advice for Britons planning international travel.
Which countries are Britons currently banned from travelling to?
Europe
France
The FCDO states: "All those wishing to travel from the UK to France, regardless of vaccination status, can only do so for essential reasons, as defined by the French authorities.
"French nationals, as well as residents in France, are considered to have an essential reason for travel."
As of December 30, 2021, UK nationals who are residents in other EU Member States – and who have travelled to the UK for the Christmas period – will be able to transit France over the New Year period in order to return home to their country of residence.
The Netherlands
All arrivals from the UK face 10 days of mandatory quarantine on arrival.
They will have the option of testing for early release on day five of their isolation.
DON'T MISS
British expats: Best cities in Switzerland [INSIGHT]
British expat says Britons 'grumbling' in Portugal should 'go home' [COMMENT]
Portugal airport chaos: 'Missed flights' due to testing delays [REPORT]

Middle East
Israel
Israel has placed the UK on its "red list" for arrivals.
According to the Israeli government: "On December 27, 2021, the Israeli government has decided to ban the entry of foreigners until further notice, except for people whose entry has been approved by the Exceptions Committee."
Qatar
The FCDO states: "A revised traffic light system for entry to Qatar came into effect on November 15, 2021. The UK is listed as a red country."
British arrivals must be fully vaccinated in order to enter.
They must also quarantine in a hotel for two days.
Africa
Benin
Entry and exit at border crossings is limited to "extreme necessity" and authorised in liaison with bordering countries.
Eritrea
All land borders are closed and are not expected to re-open in the near future. Some international flights have resumed, but are rare.
Gabon
The FCDO states: "Flight restrictions have eased to allow five flights per airline, per week. Land and sea borders are closed.
UK nationals must receive authorisation from the Gabonese Ministry of Foreign Affairs before travelling to Gabon.
"Authorisation can be obtained through the inviting party dropping the request in person at Gabon Foreign Ministry and following up with them."
Madagascar
Some flights have resumed, but options are limited.
Morocco
All international flights are banned until January 31, 2022.
The FCDO adds: "When flights resume you will need to provide proof that you have been fully vaccinated against COVID-19, with the second dose administered at least two weeks prior to travel, and a negative PCR test result before boarding your flight or ferry to Morocco."
Niger
The FCDO states: "Entry to Niger is only permitted for Nigerien nationals, persons with valid residency and foreign nationals with valid visas."
Some flights have resumed but strict Covid testing rules are in place on arrival.
Travellers will need to self-isolate until they receive their results.
Americas
Chile
Travellers are only allowed to enter Chile if they are a Chilean national or a resident foreign national, or a non-resident foreign national with proof of vaccination validated by the Chilean authorities prior to travel.
This validation can take up to 30 days.
Falkland Islands
Tourists are banned from travelling to the Falkland Islands.
Suriname
The FCDO states: "Restrictions include enhanced medical screening and border closures, which is stopping people travelling into and out of the country and limiting those who wish to leave."
See the latest Covid vaccine stats below and visit InYourArea for all the Covid vaccine latest
Asia
Bhutan
Brunei
The FCDO states: "Entry to Brunei is severely restricted. Land and sea borders are currently closed."
China
All direct flights are banned with restrictions in place for entry from third countries.
Hong Kong
The FCDO states: "From December 21, the UK will be added to the Hong Kong SAR government's list of specified places for enhanced Omicron measures.
"This means that travellers arriving at Hong Kong International Airport from the UK will need to undergo compulsory quarantine at the Hong Kong SAR Government's Penny's Bay Quarantine Centre for the first four days of the 21-day quarantine period, with daily testing and monitoring."
Japan
Indonesia
Tourist visas are not available for British travellers.
Laos
Iran
Kuwait
Macao
Malaysia
Mongolia
Myanmar
Singapore
South Korea
Taiwan
Thailand
Turkmenistan
Vietnam
Australasia
Australia
Travellers may only enter Australia from the UK if they have an exception.
The FCDO states: "Exempt categories include Australian citizens, permanent residents of Australia, immediate family members of Australian citizens or permanent residents, and (from 15 December) fully vaccinated holders of eligible visas"
Cook Islands
Nauru
New Zealand
The FCDO states: "You may be able to travel to New Zealand while the border is closed if you are considered to have a critical purpose to travel."
Papua New Guinea
Pitcairn Island
Tonga
Source: Read Full Article