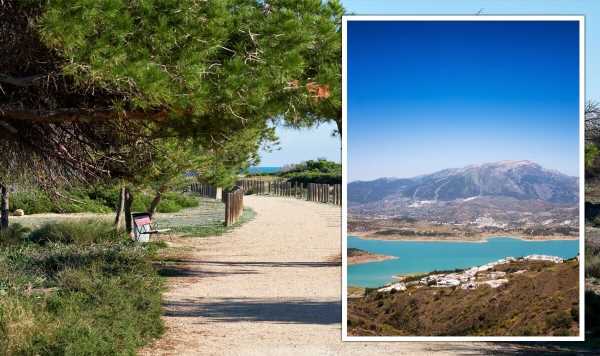 Simon Calder outlines five tips for booking a staycation online
We use your sign-up to provide content in ways you've consented to and to improve our understanding of you. This may include adverts from us and 3rd parties based on our understanding. You can unsubscribe at any time. More info
While some British expats are attracted to Spain's buzzing cities such as Madrid and Barcelona, many are looking for a more relaxed lifestyle. New research by property experts, idealista, has found the most searched for small town.
The team analysed searches of its website during the final months of 2021 to find the most searched for small towns in Spain.
The UK's most popular small town search was the stunning spot of Formentera del Segura in Alicante province.
Average property prices in the small sunny town are around 970 euros (£826) per square metre.
Around 20 percent of residents in the pretty town of 4,000 people are British or Irish expats.
British expats will have easy access to popular beaches in Guardamar and Torrevieja as well as world class golf courses.
The nearby El Mundo de Espana bar was described as a "great pub" with "fantastic service and good beer" by one visitor on Tripadvisor.
Another visitor said the bar offers a fish and chips special on a Friday which could help some expats to feel at home.
In the summer temperatures are normally above 30 degrees while temperatures are rarely below 15 degrees in winter.
Meanwhile, the pretty town of Viñuela in Malaga was the second most searched for destination by Britons.
About 150m above sea level, the town's large reservoir is often the centre for BBQs and picnics.
According to idealista, average property prices in Viñuela are around 1,856 (£1,586) per square metre.
A visitor wrote on Tripadvisor: "This is a very peaceful spot, with nice walking opportunities.
"We brought a picnic and spent a happy couple of hours reading our books."
Another said: "One of the most wonderful and underestimated places you could visit in this area! It is stunning and really really beautiful."
With just under 2,000 residents, British expats would certainly have a chance to enjoy the quiet life.
Despite its size, the village has a supermarket, pharmacy, doctor's surgery and a few restaurants and cafes.
Although the Alicante town was more popular with Dutch and German searchers, Ciudad Quesada was also highly rated by Britons.
With 15,000 residents, the town is very close to Torrevieja and has many Blue Flag beaches within a 15 minute drive.
Average property prices were 2,207 euros (£1,881) per square metre making it one of Spain's more expensive small towns.
Alicante was the most popular province for international buyers and was recently named the sunniest spot in Europe.
Source: Read Full Article