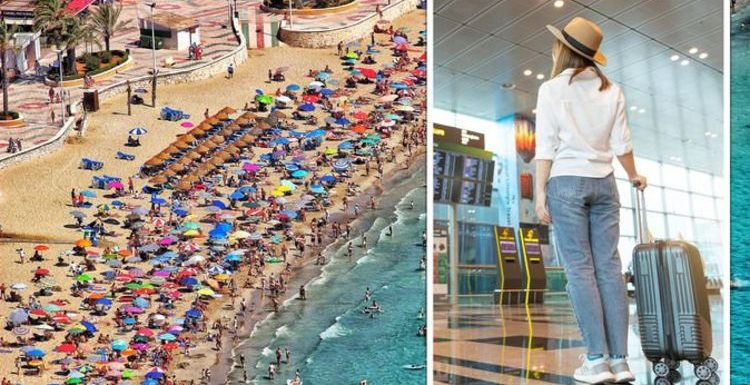 Simon Calder discusses cancelled holidays over Christmas
We use your sign-up to provide content in ways you've consented to and to improve our understanding of you. This may include adverts from us and 3rd parties based on our understanding. You can unsubscribe at any time. More info
Tens of thousands of flights were cancelled during one of the busiest travel times last year. Holidaymakers were left stranded over Christmas when airline staff shortages stopped many travel plans on their tracks.
Airlines are scrapping flights all over their schedules in response to Omicron.
Lufthansa was planning to cancel 10 percent of its winter flight schedule due to the pandemic.
This means around 30,000 flights will be scrapped by the airline between January and February 2022.
Ryanair scrapped a third of its January flights and BA has cancelled thousands of flights until March 2022.
Airport Council International (ACI) has said traffic at European airports has decreased by 20 percent since the emergence of Omicron.
Director General of ACI Europe, Olivier Jankovec said: "Beyond the holiday season, there is no doubt that Omicron will take its toll on passenger traffic in the first quarter of 2022.
"But the extent to which we need to revise our expectations will primarily depend on whether Governments continue with knee-jerk reactions or not."
In the UK, the travel industry is facing staff shortages across the board, said the World Travel & Tourism Council (WTTC).
They found over 200,000 tourism jobs left unfilled in 2021 and were predicting a shortage of 15,000 workers for 2022.
On Twitter, holidaymakers are complaining about their flights being cancelled, but many also understand.
Matthew Yglesias said: "Would you rather fly on a plane with asymptomatic but contagious flight crew members or have your flight cancelled and need to deal with the hassles and fallout?"
Most social media users agreed it was better to have their flights cancelled than risk catching Covid.
Holidaymakers may face more cancellations in the months to come, with the pandemic still evolving and travel requirements changing.
In the UK, the travel rules have been relaxed, with Grant Shapps announcing the scrapping of pre-departure tests and of Day 2 PCR tests.
But this is not the only thing holidaymakers have to worry about.
The UK aviation sector has shrunk due to the pandemic, meaning there are less flights available.
In 2021, only 406,060 international flights operated from the UK.
This is compared to almost 1,400,000 in 2019, a 71 percent decline.
Domestic flights were also impacted with a fall of nearly 60 percent, said aviation analytics firm Cirium.
Source: Read Full Article