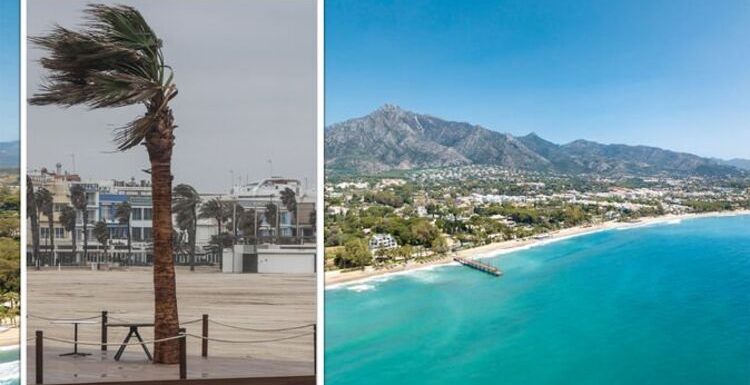 Spain: Large cloud of smoke blankets Montornès del Vallès
We use your sign-up to provide content in ways you've consented to and to improve our understanding of you. This may include adverts from us and 3rd parties based on our understanding. You can unsubscribe at any time. More info
Marbella's Town Hall has now increased its budget for repairs to 670,000 euros (£569,000). Beaches and street lighting have been damaged in the storm.
Diego López, councillor for public works, said: "Already on March 22 we took stock of the approximate costs that we had to allocate to solve the damage caused by the storm.
"Incidents have increased due to the storm this weekend."
Repair plans are in place to replace sand on the most impacted beaches and fix damage to Marbella's promenade as well as showere and toilets.
The resort's most affected beach was Alicate, a Blue Flag beach, about 10km from the centre of Marbella.
Replacing street lighting damaged in the storm is expected to cost around 99,000 euros (£84,000).
British tourists could see holidays impacted as it is now doubtful the beaches will be repaired in time for the Easter holiday weekend.
Repairs were expected to be carried out in time for April 8 but transport strikes across Spain have affected deliveries.
Sand, cement, machinery and materials necessary for repairs have all been impacted by delivery chaos.
The damage has also ignited a debate in Marbella about installing breakwaters at the resort's beaches.
López said: "None of this would have happened if our beaches had breakwaters."
Breakwaters are offshore structures that reduce wave energy reaching the beach to protect it.
They reduce the impact of storms and coastal erosion by reducing the energy of waves and their potential to cause damage.
Spain's recent stormy weather has caused shock among residents and tourists who are used to the sun at this time of year.
Several areas including the Costa del Sol were under weather warnings this week as beaches were blasted by wind and rain.
Although many warnings are expected to be lifted by this weekend, tourists should still follow the advice of local authorities.
Marbella is a popular destination for British tourists and often plays host to many of Europe's rich and famous.
Cast members of the Only Way is Essex are known to be fans of the resort and have often filmed episodes of the hit ITV show there.
Boris Johnson and wife Carrie holidayed at a villa in Marbella worth £25,000 a week towards the end of 2021.
British tourists can fly to Malaga, a short journey to Marbella, for as little as £15 return in April from some UK airports.
Britons will need to be fully vaccinated or have a recent Covid recovery certificate to travel to Spain.
Source: Read Full Article