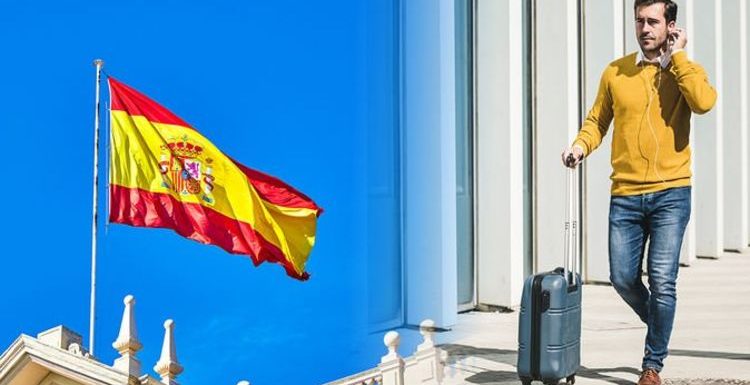 Spain announce travel ban for UK flights amid coronavirus strain
When you subscribe we will use the information you provide to send you these newsletters.Sometimes they'll include recommendations for other related newsletters or services we offer.Our Privacy Notice explains more about how we use your data, and your rights.You can unsubscribe at any time.
Spain holidays have come with countless complications over the past year as travel rules have changed repeatedly. Yesterday the Foreign, Commonwealth and Development Office (FCDO) issued a new update for Spain. It comes after the country extended it ban on UK arrivals earlier this month.
Spain travel advice
The latest FCDO update concerns British expats who live in Spain and wish to return to the country.
The new travel advice concerned new information on documents accepted as proof of residence for entry to Spain.
UK nationals who were legally residing in Spain before January 1, 2021, and as such are beneficiaries of the Withdrawal Agreement, can use a variety of documents to prove their residence status when entering Spain.
The FCDO explains these are as follows:
– Residence card issued under Article 18.4 of the Withdrawal Agreement (the TIE – Tarjeta de Identidad de Extranjero)
– Temporary or permanent EU residence certificate (Certificado de Registro de Ciudadanos de la Unión)
– Receipt of application for the TIE (Resgaurdo de presentación de la solicitud de la tarjeta de residencia)
– Confirmation of the positive outcome of your residence application (Resolución favorable por la que se concede la tarjeta de residencia)
– In the absence of any of the above documents, other documents that credibly evidence your legal residence in Spain before 1 January 2021, such as a padrón certificate (issued by your town hall), a work contract, a rental contract, or proof of property purchase
– In the case of students, documentation that demonstrates enrolment in an on-site or in-person course and proof of accommodation
Spain has a number of strict entry rules for anyone entering the nation.
"All passengers (excluding children under the age of six years old) travelling to Spanish airports and ports from 'risk' countries (as determined by the European Centre for Disease Prevention & Control) will be required to present a negative PCR swab test taken within no more than 72 hours prior to arrival, in order to enter the country," detailed the FCDO.
It added: "This requirement applies to all passengers arriving in Spain by air or sea, regardless of your residence status in Spain and the length of time you intend on staying. Property owners in Spain are subject to this requirement."
The admin for entering Spain does not stop there.
It must contain the following information:
Name of passenger
Passport number or ID card number (the number provided must match the one provided on the Health Control Form)
Test date
Name and contact details of the testing centre
Testing method applied (ie PCR)
Test results
The FCDO warns that the punishment for breaking the rules are severe.
"Checks will be carried out on arrival to confirm travellers have undergone a COVID-19 PCR, TMA or LAMP test and have tested negative.
"A minimum fine of €3000 may be issued to anyone who arrives in Spanish airports and ports from 'risk' countries without adequate evidence of a negative PCR, TMA or LAMP test.
"Passengers may also be contacted and required to undertake a PCR, TMA or LAMP test at any point up to 48 hours after their arrival in Spain."
Source: Read Full Article