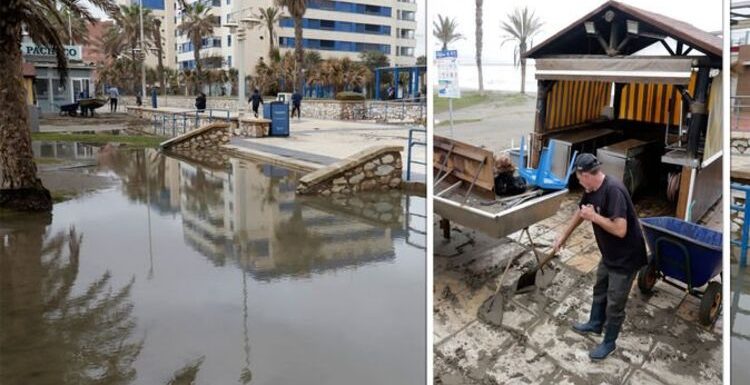 Manchester Airport: Eamonn Holmes on problems with travel
We use your sign-up to provide content in ways you've consented to and to improve our understanding of you. This may include adverts from us and 3rd parties based on our understanding. You can unsubscribe at any time. More info
An unusual bout of bad weather across Spain has battered some of the Costa del Sol's beaches. Beaches in Malaga, Marbella, Fuengirola, Nerja and Torremolinos have been affected.
The storm has caused serious damage to several of the beaches right before tourists are expected to arrive for Easter holidays.
The head of the Costa del Sol Tourist Board has called for the Spanish Government to do more to protect the beaches.
Francisco Salado, head of the Costa del Sol Tourist Board, said: "The Government has to stop looking the other way and act immediately.
"Easter is a really important time for the Costa del Sol and all the hard work by councils and businesses to have the beaches in perfect condition has been for nothing because of the lack of effective measures to protect and stabilise them."
He added: "The beaches are our biggest tourist attraction and we rely on them being in good condition."
Spain is looking forward to a busy Easter holiday season after a difficult time during the pandemic.
Salado said: "We have had two really difficult years because of the pandemic and the restrictions, and now because neither the Government nor the Coastal Authority have been prepared to take action when it was needed, the recovery of the tourism sector and the economy of Malaga and Andalucia is in jeopardy."
The head of the Tourist Board added that over 115,000 families rely on tourism to make a living.
Over 14,000 businesses in the region also rely on tourism and have been heavily impacted by the last few years.
Photographs of the damage show fallen trees littering the beaches and cafes flooded with mud.
Some beachfront cafes and bars also suffered damage including broken windows and furniture.
Seas were extremely rough and some pedestrian promenades were flooded during the storm.
The Canary Islands were also under a weather warning on Monday with strong winds and rough seas expected.
However, the warnings have now been lifted and tourists can expect cloudy but calm weather.
Tourists should still take care swimming in the sea as there may be dangerous swells in some areas.
The bad weather has shocked some residents and tourists who are used to sunny weather during the spring.
The weather in the Costa del Sol is expected to brighten up over the weekend which is good news for British tourists.
Britons need to be fully vaccinated to travel to Spain and will need a booster if their second jab was more than 270 days ago.
British teenagers will need to take a PCR test 72 hours before travel if they are not fully vaccinated.
Britons do not need to take a travel test or fill out a passenger locator form when they return to the UK.
Source: Read Full Article