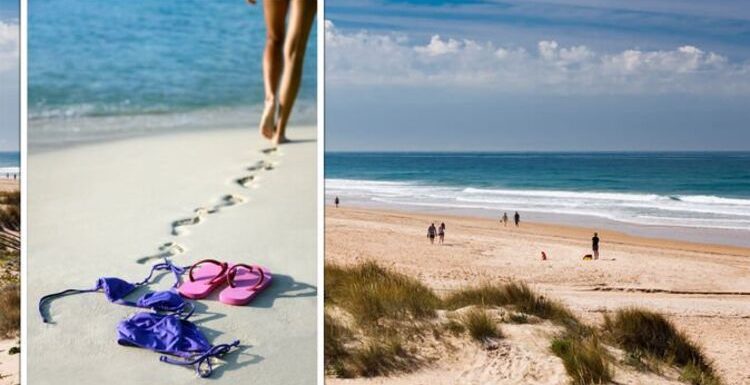 Manchester Airport: Eamonn Holmes on problems with travel
We use your sign-up to provide content in ways you've consented to and to improve our understanding of you. This may include adverts from us and 3rd parties based on our understanding. You can unsubscribe at any time. More info
The popular tourist city of Cadiz in Spain will now allow nudism on all its beaches. The City Council is aiming to allow nudism across the city's coastline.
Ismael Rodrigo, president of the Spanish Naturist Federation, welcomed the announcement from Cadiz.
The organisation had campaigned for the change and said banning nudism was illegal in Spain.
They said that nudism is recognised as freedom of expression by the European Court of Human Rights.
However, not all the residents in Cadiz were as happy about the change in beach etiquette.
Ester Canero, president of the Cadiz Association of Large Families, said: "Of course, we live in a free country.
"Very free, as we can see. But there are things I do not support and cannot agree with."
Some people believe that nudism is not respectable in areas where children are around such as beaches.
Other residents complained that the Council was too focused on issues like nudist rather than other problems such as a lack of parking.
Spain is fairly popular with nudist tourists, some of whom choose to stay at naturist resorts with their own facilities.
Vera beach in Andalucia is Spain's largest nudist beach and many naturists stay at the Vera Playa Club.
El Playazo beach in Vera covers over 4,000m and is frequented by both nudists and clothed people.
In 2013 in El Playazo, 729 naked bathers broke the Guinness World Record for the largest nudist swim ever seen.
Topless sunbathing is pretty common in Spain although nudists are advised to stick to designated areas.
Some beaches have areas reserved for nudists and these will usually be clearly signposted.
The Balearic Islands and Canary Islands both have naturist beaches and there are several in the Costa del Sol.
However, tourists should care not to break any rules about public nudity once they are off the beach.
It's frowned upon for men to walk around shirtless in many areas of Spain and tourists can even be fined for doing so away from the beach.
Topless Britons in public areas away from beaches, promenades and swimming pools in Alicante can be fined £627.
Tourists can also face fines for being topless in areas away from the beach on the island of Majorca.
British tourists are advised to check the local rules and restrictions in their Spanish holiday destination.
Source: Read Full Article