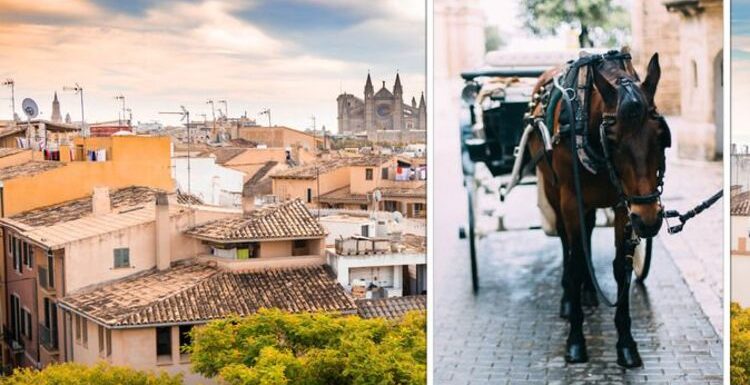 Heathrow: Chaos with travellers bags as BA cancels flights
We use your sign-up to provide content in ways you've consented to and to improve our understanding of you. This may include adverts from us and 3rd parties based on our understanding. You can unsubscribe at any time. More info
Horse carriage rides are popular with tourists visiting Palma, the capital of Majorca in Spain. The carriage owners offer tourists hour-long tours of the city.
An animal rights group in Spain, Progreso en Verde, has called for the new Animal Protection Law to put an end to "exploitation" of horses.
Activist Guillermo Amengual said: "The opportunity presented by the forthcoming Animal Protection Law to put an end to the abuse of carriage horses must not be wasted.
"The public does not want to continue to see horses collapsing due to heat stroke after being forced to pull hundreds of kilos in temperatures above 40 degrees.
"The horses are exploited, mistreated, given hardly any water to drink and malnourished.
"We can no longer ignore the reality."
Activists say that hard surface roads damage the horses' hooves and can cause them to develop leg conditions.
They say that hot temperatures, sometimes nearing 40 degrees, cause suffering to the working horses.
In 2016, a carriage horse died when it bolted and crashed into a wall while working in Palma.
Amengual added: "Barcelona and Capdepera have already abolished the service because it is a clear mistreatment of animals and the rest of the cities like Palma should follow suit because it damages Spain's image and puts people off visiting."
According to PETA, cities such as London, Paris, Toronto and Rome have also introduced bans on carriage rides after concerns.
However, carriage rides have continued in some of Rome's parks despite the practice being banned on the city's roads.
The price of an hour's horse drawn carriage ride in Palma is estimated to be around 60 euros (£49).
Although there are mandatory annual checks on horses and carriages in Palma, there have been complaints from tourists about the treatment of the horses.
Some people have reported seeing horses collapse in the heat from exhaustion and overloaded carriages.
However, many of the drivers fear losing their livelihood if they are banned from working in the city centre.
Activists would like the horses to be replaced with 'antique' electric vehicles so tours could continue.
They say this would end the "exploitation" of horses and preserve jobs for the carriage owners.
In an incident last summer, a collision between a horse and a bus led a horse to fall to the ground.
The horse suffered minor injuries in the incident. Some residents and tourists fear that more road traffic accidents could occur.
Activists have also claimed that owners overload the carriages with tourists, causing distress to the horses.
Source: Read Full Article