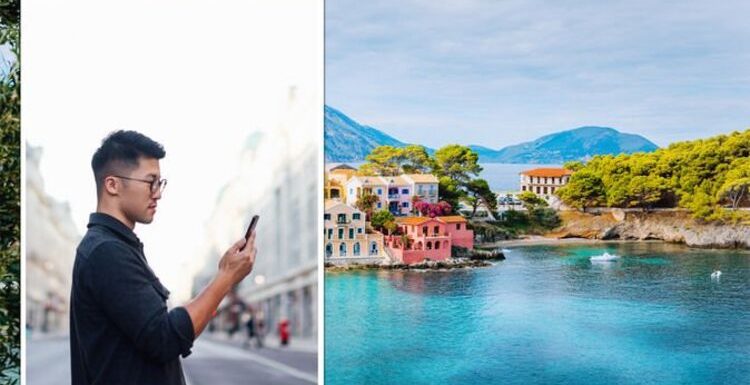 Heathrow: Chaos with travellers bags as BA cancels flights
We use your sign-up to provide content in ways you've consented to and to improve our understanding of you. This may include adverts from us and 3rd parties based on our understanding. You can unsubscribe at any time. More info
EE customers will have to pay £2 per day to make calls or use data while holidaying in the EU. But how can British customers reduce fees?
The major network originally planned to reintroduce roaming charges in January but delayed it until March 3.
Mobile firms had been banned from charging customers extra roaming fees to use their phone in the EU.
However, since the Brexit transition period ended, the rule no longer applies and networks can apply fees.
Customers who joined or upgraded with EE after July 7, 2021 will be affected by the roaming charges.
The roaming charges will apply to people holidaying in 47 countries and only people on specific roaming tariffs such as 'Smart' and 'Full Works' won't pay the charges.
Vodafone already reintroduced fees in January and also charges customers £2 per day for roaming.
All Vodafone customers who took out a contract after August 21 in 2021 will be subject to the charges.
Three is set to bring back roaming charges from May 23 and will also charge customers £2 per day.
O2 has set a new limit on data in the EU and customers who use more than 25GB a month will be charged £3.50 per GB of extra data.
However, there are a few ways that EE customers can save money on holidays in the EU this year.
Existing EE customers won't be charged roaming fees until they sign up to a new deal or renew a contract.
Customers who have updated their deal since July 7, 2021 could cut costs by purchasing a roaming pass.
EE customers can pay £10 for a 30 day 'Roam Abroad Pass' which will be cheaper than two pounds per day if customers are spending more than five days abroad.
Many cafes and restaurants also offer free wifi and customers could save money by using wifi instead.
Ernest Doku, mobiles expert at Uswitch.com told The Mirror: "When it comes to travelling, don't leave it until the last minute to check the roaming charges for your destination.
"Use hotel and cafe Wifi when on holiday where possible, ensuring any public access points are safe and secure when logging on."
Roaming charges will apply in 47 countries around the world for British EE customers.
Austria
Azores
Belgium
Bulgaria
Croatia
Cyprus (higher fees apply to those who connect to a Turkish network)
Czech Republic
Canary Islands
Denmark
Estonia
Finland
France
French Guiana Guyana
Germany
Gibraltar
Greece
Guadeloupe
Guernsey
Hungary
Iceland
Ireland
Isle of Man
Italy
Jersey
Latvia
Liechtenstein
Lithuania
Luxembourg
Malta
Martinique
Mayotte
Monaco
Netherlands
Norway
Poland
Portugal (including Madeira)
Reunion Islands
Romania
San Marino
Saint Martin (France)
Saint Barthelemy
Slovakia
Slovenia
Spain (including Canary Islands)
Sweden
Switzerland
Vatican City (Italy)
Source: Read Full Article