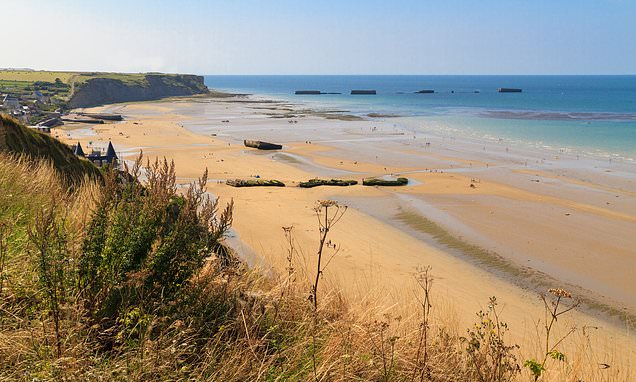 Exclusive for Mail on Sunday readers: Join historian Dan Snow on a tour of the D-Day beaches in Normandy
Operation Overlord, as the D-Day landings were codenamed, was one of the most important missions of the Second World War.
Now you can join us on a fascinating trip to mark the anniversary in June of the Allied attack on the Normandy beaches.
You'll discover incredible stories of the heroism of those involved in the events from June to August 1944 and come away with a fresh perspective on the most important seaborne invasion in European history.
As you visit the beaches and battle sites encountered by the Allied forces all those years ago, you'll hear a historical view of the manoeuvres from acclaimed historian and presenter Dan Snow. He will spend day five of the trip with you, bringing the stories of the invasion to life with his expert insights.
Your journey begins in Portsmouth at the D-Day Story Museum, where expertly curated exhibitions will prepare you for what's to come.
Take a fascinating trip to mark the anniversary in June of the Allied attack on the Normandy beaches. In Arromanches, you'll see the remains of Mulberry harbour (pictured), which was constructed by the Allies to offload men, equipment and supplies
You'll then travel by ferry to France to visit fascinating sites such as Arromanches, Pegasus Bridge, the German gun battery Merville Battery and Ranville Cemetery. 
Dan Snow and your expert tour guide will share illuminating stories and paint a detailed picture of one of the most pivotal struggles of the war.
As well as giving a new perspective on the key battles and military strategies, this tour will also shine a light on the everyday people caught up in the fighting who often showed extraordinary courage during the dark days of occupation.
Throughout the trip you'll be staying at the Ibis Caen Centre, a conveniently located hotel offering comfortable rooms, a delicious buffet-style continental breakfast and a stylish bar with glorious views across the port.
Heroic: On the tour, there will be time to contemplate at the American Cemetery overlooking Omaha Beach. Pictured are U.S troops storming the beach in 1944
OUR SPECIAL GUEST
You will be joined by Dan Snow
Dan Snow is a historian, broadcaster and television presenter. He is the founder and creative director of History Hit, presenting shows on History Hit TV and hosting the podcast Dan Snow's History Hit. He has written and contributed to several books, including 20th Century Battlefields and On This Day In History.
Reasons to book
Exclusive events with Dan Snow: History Hit's Dan Snow will join you for the fifth day of the tour as you visit key sites in the progress of Operation Overlord. He'll also attend one of the dinners and give an absorbing talk on the Allied invasion.
Travel with an expert tour guide: Accompanying you for the duration of your trip will be expert battlefields guide Jo Hook – a full-time military historian who has been leading battlefield tours for 16 years. She has a passion for military history that she will share with you on the trip.
Stay in the centre of Caen: You'll be spending the nights in a comfortable and conveniently located hotel, the Ibis Caen Centre.
Situated opposite the marina, the hotel is the ideal starting point for visiting key D-Day sites. You'll have a continental buffet breakfast included each morning, too.
Visit Arromanches: You'll have plenty of time to spend in the seafront town steeped in Second World War history. This is the location of the Mulberry harbours constructed by the Allies to offload men, equipment and supplies, and you can see the remains of the constructions to this day.
See the D-Day beaches: Visits to several of the beaches where Allied forces landed during Operation Overlord are included in your trip. You'll see Juno, Sword, Omaha and Utah Beaches, the latter housing the Utah Beach Museum where you can learn more about the invasion.
Visit Commonwealth cemeteries: There are several Commonwealth cemeteries in Normandy and you'll visit many of these on your tour. There will be time to contemplate at the American Cemetery overlooking Omaha Beach, the Ranville War Cemetery and the Bayeux Cemetery. These graveyards are a moving reminder of the lives lost during the war.
WHAT'S INCLUDED 
Exclusive events and excursions with Dan Snow.
A copy of On This Day In History by Dan Snow**.
Comfortable coach transport throughout.
Four nights' accommodation in single or double en suite rooms at Ibis Caen Centre.
Four continental breakfasts.
Three packed lunches. 
Two three-course evening meals with a glass of wine.
Full services of an expert tour guide and manager.
Audio headsets and receivers.
Museum entrances as stated in the itinerary.
YOUR ITINERARY: DAY 1 Portsmouth DAY 2 Utah Beach DAY 3 Sword Beach, Juno Beach, Omaha Beach and Arromanches DAY 4 Bayeux Cemetery DAY 5 Pegasus Bridge
HOW TO BOOK
The price: From £1,549pp*. The dates: June 2 to 6, 2023.
CALL 020 4586 2820 quoting MOS D-DAY LANDINGS. To find out more, visit mailtravel.co.uk/d-daylandings.
Terms and conditions: *From price is per person, based on two people sharing a room, subject to availability. Price and itinerary correct at time of print but may be subject to change. Single supplement £355. Deposit 20%. **One per booking. Local charges such as tourist tax may apply. In the case of unforeseen circumstances, expert(s) may be substituted, and any expert-led events may be subject to change. Expert(s) will not join you for your full trip duration unless otherwise stated. Travel insurance is not included but required for most of our overseas trips and should be taken out at time of booking. Images used may not reflect your actual tour experience. This holiday may be sold through other selected brands. Holiday is operated by and subject to the booking conditions of TS Travel Limited (ATOL-bonded). Full cancellation terms available at tstours.co.uk/assets/tandc.pdf. 
Source: Read Full Article