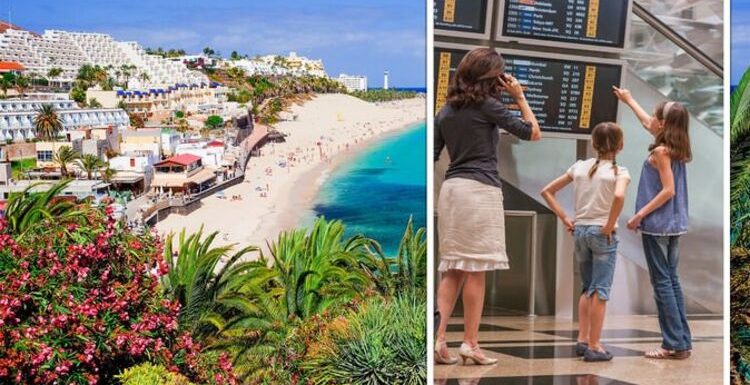 Hotel Benidorm: Guests explain why they like Benidorm
We use your sign-up to provide content in ways you've consented to and to improve our understanding of you. This may include adverts from us and 3rd parties based on our understanding. You can unsubscribe at any time. More info
Ángel Víctor Torres, president of the Canary Islands Government, has said the rule on British teenagers travelling to Spain will be scrapped from Monday. Yesterday he said it would be resolved "immediately".
Currently, British teenagers have to be double vaccinated to travel to Spain. This had caused issues for many British families.
Many teenagers in the UK have not had the chance to be fully vaccinated particualrly if they just turned 12.
Torres tweeted this morning: "Excellent news to the tourist recovery and the high season in the Canaries.
"Today the Government collects the order that, as of Monday, allows British people between 12 and 18 years of age to visit us with a vaccination certificate or PCR carried out in the previous 72 hours."
He added: "This is a measure negotiated in recent weeks with the Government of Spain."
While the order was published on the Spanish state official newsletter this morning, the British Foreign Office has yet to change its advice for travel to Spain.
The announcement said the rules would change from Monday February 14 which could save some families' half term holidays.
According to hoteliers in the Benidorm resort, thousands of Britons have cancelled holidays over the winter season.
Tourism officials from popular Canary Island destinations, including Tenerife, Fuerteventura and Lanzarote had appealed for Spain to drop restrictions.
Antonio Hormiga, president of the Fuerteventura Tourist Association, said: "We are losing a lot of British tourism in the Canary Islands because the central Government continues to fail to apply common sense."
He said the rule had had a very "negative effect on the economy" in the Canary Islands.
Winter is often seen as peak season for the islands which are normally warm all year round due to their proximity to the Equator.
Critics of Spain's vaccination rules for Britons said it was unfair that the UK was subject to harsher restrictions than other EU countries.
Residents from some EU countries with higher Covid rates than the UK are allowed to enter Spain if they are unvaccinated.
Those working in the tourism sector in Spain feared they would lose the British market to other destinations.
Popular holiday spots, including Greece and Portugal, relaxed their travel restrictions this year.
Turkey and Mexico have also proved popular with British holidaymakers this year due to their simpler travel rules.
The Spanish and British Governments have yet to make an announcement on the change in rules.
It scrapped the mandatory wearing of masks outdoors on February 10 except in some limited circumstances.
Tourists and residents will still need to wear a mask outdoors at public transport stations and some mass events.
British tourists are advised to check the FCO travel advice before travelling to Spain. Unvaccinated British adults are likely to still be banned from travelling to Spain.
Source: Read Full Article