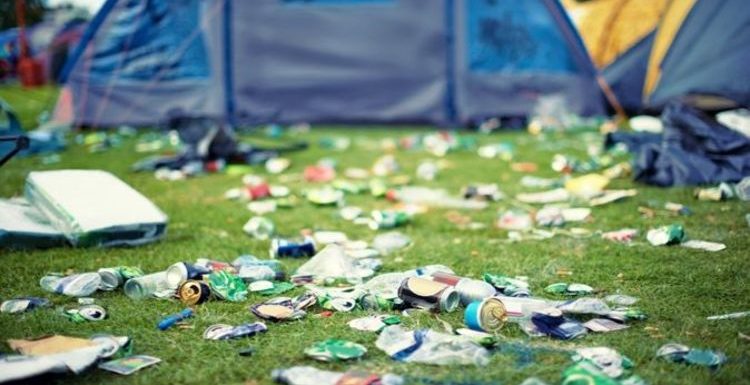 The Camping and Caravanning Club detail virus safety measures
We use your sign-up to provide content in ways you've consented to and to improve our understanding of you. This may include adverts from us and 3rd parties based on our understanding. You can unsubscribe at any time. More info
The protected moorland in Devon is known for stunning scenery with plenty of unique wildlife including wild ponies, otters and bat species. Dartmoor national park is popular with hikers, mountain bikers and families as it offers many activities.
At present, Dartmoor is the only national park to allow visitors to take part in "backpack camping".
Backpack or wild camping is where visitors carry their camping equipment on their back and stay for up to two nights.
Wild camping is only allowed if the camper can carry everything they need in their backpack and uses very small tents that blend into the landscape.
Staycationers are allowed to wild camp on designated areas of Dartmoor, in isolated spots away from roads and people.
As visitor numbers have swelled in the national park, antisocial behaviour is also on the rise, including among wild campers.
Park staff have had to cope with illegal campervans, barbecues, fires and litter on the protected moors.
Large groups of people meeting on Dartmoor in summer 2020 led to a habitat being spoiled, according to rangers.
In July this year, visitors were banned from historically protected Wistman's Wood, as they were found to have hacked apart ancient bark and left a lot of litter.
Litter found in the beauty spot has included contraceptives, glass bottles, discarded cigarettes and toilet paper.
Twitter user, MoleytheMole, posted a picture of a wild pony feeding near discarded litter. They said: "Anywhere within a short walk of parking is often blighted by abandoned picnic rubbish."
Wild camping is currently allowed on Dartmoor provided campers operate under a "leave no trace" policy.
Dartmoor national park website states: "If you worry about carrying your rubbish out, need a bin or a toilet-then this isn't for you-use a campsite."
Wild campers must also stay out of sight so that other people can enjoy an unspoiled view of the moors without seeing tents.
After the antisocial behaviour worsened, Dartmoor announced it was reviewing the existing byelaws, including permitting wild camping.
The current byelaws are 32 years old and include restrictions on vehicles, fires, dogs and the feeding of animals.
Cigarettes and barbecues could cause wildfires that would be devastating for the local area and protected wildlife.
The majority of the wild Dartmoor ponies have never been handled and should not be approached with food or be petted.
Dartmoor national park said the byelaws needed to be updated to better fit with modern needs and improve public understanding.
Alison Kohler, Dartmoor's director of conservation and communities, said: " We are doing this to ensure the bylaws are fit for purpose and help protect the national park for all to enjoy today and tomorrow.
"Updating the bylaws is an important topic for everyone who cares about Dartmoor whether it is landowners, commoners, residents, businesses or visitors, and we recognise people will want to have a say."
A public consultation on the existing byelaws and antisocial behaviour will be open from September 20 for six weeks.
Source: Read Full Article