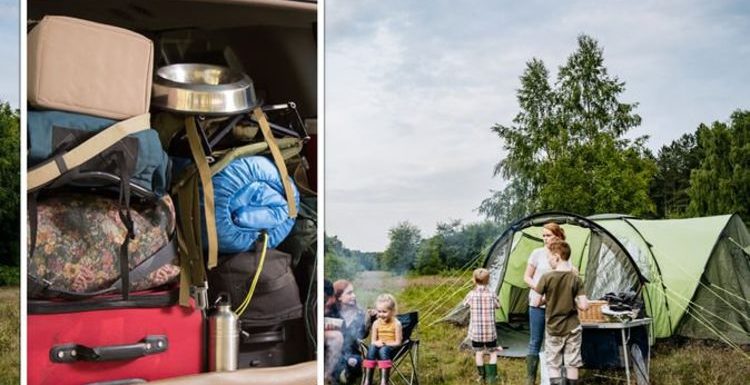 The Camping and Caravanning Club detail virus safety measures
We use your sign-up to provide content in ways you've consented to and to improve our understanding of you. This may include adverts from us and 3rd parties based on our understanding. You can unsubscribe at any time. More info
Camping has never been more popular, and Britons have wholeheartedly embraced outdoors holidays this summer. With winter approaching, many Britons have packed up their camping gear and can only dream and plan their next trip.
On social media, camping Britons are sharing tips and hacks to make camping easier and more enjoyable for everyone.
Simon Brandt asked: "How do people have enough room in the car? I am dreading packing the car next year already."
And it seemed many campers also had this issue.
Amy Leigh Laverick wrote: "Three of us went to Cornwall, one had to fly as we wouldn't all fit in."
Jay Wilkinson, however, thought of it as a challenge.
He said: "Dreading it? You should be relishing the challenge."
But Jay was quite alone in taking it so lightly.
READ MORE: Cunard 'ruins family Christmas'
Many Britons tried their best at taking everything with them, and it was found to be a struggle.
Lindsay Smith said: "I dread it every time so we are looking into getting a roof rack to put a box on."
Wendy Stone, meanwhile, has no solution: "Trust me there is never enough room. Still trying to master the art of camping Tetris."
Oriana Crooks said: "We started off with just the car, then added a roof box now a trailer and still can't fit it all in."
Amie Randle went all out: "We have just ordered a bigger car and will be investing in a roof box/bag as well."
The solution of simply getting a bigger car or even adding a second car was quite popular.
Denise Brogden said: "I bought a bigger car!"
Charlotte Sparey said: "I bought a new car for it all to go in."
Lottie Young wrote: "We're struggling with our seven seater! Need a roof box now or take two cars."
Karen Brown said: "[We] have succumbed to the two-car brigade."
And Beverly Moses advised: "Get a van."
For Britons who were not ready to buy a new, bigger, car to fit in all their camping equipment, there were some solutions.
Steven Battle said: "Vacuum pack a lot of stuff."
Jo Green said: "Don't pack in boxes. I have most of my kit in dry sacks. They squash down and can be squished into little spaces."
David Price wrote: "Trailer all day long. Get one with high sides and a good fitted cover; brilliant. We used to take everything including the kitchen sink and four dogs (not in the trailer I might add)."
Martyn Jones went all in: "Vacuum bags, trailer and roof box."
Hazel Mckeown had only one hack: "A roof bag – best thing ever, don't even need rails."
Paul Andrews said: "A large roof box was the way forward and essential for us or the kids would've been left at home."
Kids seemed to be the first thing Britons are ready to sacrifice to make some room for camping equipment.
Phip Woodhatch said: "I find leaving the kids behind frees up so much extra space. Highly recommend."
Lisa Jane joked: "We've got a seven seater for four of us. If we get much more equipment, we'll sacrifice a child."
And Danielle Birt added: "If I don't take my children then everything fits."
Source: Read Full Article