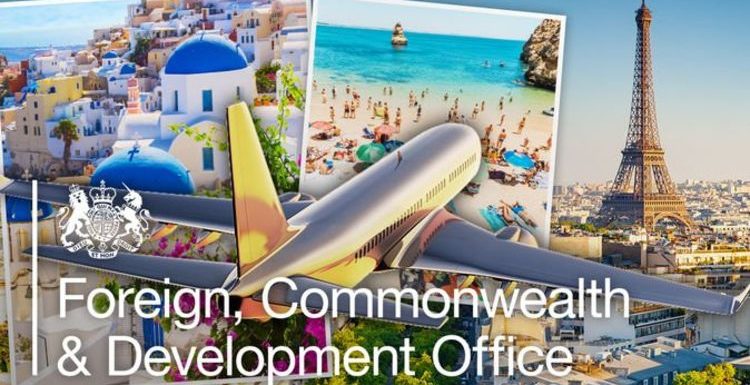 Spain announce travel ban for UK flights amid coronavirus strain
Holidays may be off the cards under current lockdown rules in the UK, however, some Britons may need to travel for "essential purposes". As stay at home orders and restrictions tighten across Europe, however, it is vital travellers are aware of each nation's specific rules.
The Foreign, Commonwealth and Development Office (FCDO) provides up-to-date advice for travellers.
Here are the latest travel updates for Spain, France, Italy, Portugal, Greece and Germany.
Spain
The FCDO is currently advising against all non-essential travel to Spain.
Since December 22, 2020, Spain has had strict travel restrictions on journeys from the UK by air and sea.
These measures have been extended until February 2, 2021, with the exception of Spanish nationals and those legally resident in Spain.
International transit through Spanish airports is allowed by passengers on flights departing from the UK, however, they must present a negative PCR, TNA or MAP test taken within no more than 72 hours prior to travel.
For those hoping to enter Spain, the FCDO advises carrying your "resident document" including "the green paper EU resident certificate or the new TIE" as well as "your valid passport".
"The Spanish authorities have not confirmed whether other documents are being accepted as sufficient proof of residence to enable entry to Spain," adds the FCDO.
"We strongly advise that you contact your airline before travelling to confirm your proof of residency meets the requirements of your airline."
Furthermore, all arrivals from "risk countries" which includes the UK, must present a negative PCR, TNA or LAMP test taken no more than 72 hours prior to arrival.
Britons returning to the UK from Spain must also present a negative COVID-19 test taken within 72 hours of travel. They will then face 10 days of mandatory quarantine.
The FCDO adds: "The UK currently advises against travel to Spain however, should you choose to travel against this advice, you should consult the Spanish Ministry of Health map for further details of local outbreaks in Spain and check the advice of local authorities in your destination prior to travel."
It also recommends following lockdown restrictions as set out by Spanish authorities.
This includes rules on wearing face masks in public, limited numbers on social gatherings, and restrictions on opening hours of certain establishments such as bars and restaurants.
We will use your email address only for sending you newsletters. Please see our Privacy Notice for details of your data protection rights.
France
The FCDO is currently advising against all non-essential travel to France.
On December 20, France announced restrictions on travel from the UK which apply to all air, car, ferry and train passengers.
Only French nationals and nationals of the European Area (EA) and their spouses, or outside nationals who are either habitually resident in France, the EU or EA may be permitted entry.
Travel for certain "essential" purposes may also be permitted.
"All travellers from the UK, including children aged 11 and above, will need to present a negative COVID-19 test result, carried out less than 72 hours before departure," states the FCDO.
"The French government has specified that, from 18 January, only PCR tests will be accepted for entry to France.
"Arrivals will also be required to self-isolate for 7 days on arrival, before taking another PCR test."
Arrivals from the UK will also be required to complete a "sworn statement" self-certifying they are not suffering from COVID-19 symptoms, and sign a "travel certificate" setting out their reasons for travel.
Britons returning to the UK from France must present a negative coronavirus gets taken within 72 hours of travel. They must also self-isolate for 10 days.
For UK nationals currently in France, the FCDO warns of the latest lockdown restrictions.
"The health situation in France remains severe," it states.
"From 16 January, a national curfew is in place from 6pm to 6am. These measures may change at short notice.
"New attestations (i.e. self-certified documents) to leave the house during curfew are available on the French Interior Ministry website and through the digital app 'Tous anti-Covid'."
DON'T MISS
Holidays: Hotel quarantine rule 'likely' to be introduced [COMMENT]
Holidays: Experts predict when travel will resume & when to bag a deal [INTERVIEW]
Ibiza closes borders as coronavirus levels worsen on Spanish island [INSIGHT]
Portugal
The FCDO is currently advising against all non-essential travel to Portugal.
The Portuguese government announced the suspension of all direct flights from the UK on January 23 in response to the rising number of cases in Portugal related to the COVID variant identified in the UK.
The UK Government then suspended direct flights from Portugal (including the autonomous regions of Madeira and Azores) to the UK on January 15.
Visitors who have been in or transited through Portugal (including the autonomous regions of Madeira and Azores) in the previous 10 days cannot enter the UK.
However, British and Irish nationals and third-country nationals with residence rights in the UK will be allowed to arrive from Portugal and its autonomous regions. They will need to self-isolate for 10 days along with the entirety of their household.
"UK nationals in Portugal who wish to return to the UK will have to travel via other airports," warns the FCDO.
"Check available routes online with travel companies or by contacting the airlines."
Britons currently in Portugal are advised to follow the latest lockdown measures in place.
"Mainland Portugal is currently in a 'state of emergency'," explains the FCDO.
"The Portuguese government has put in place a series of measures to control the spread of the virus, including a national lockdown.
"You are instructed to stay at home, except to buy food and other essential items; to go to work exceptionally, if your professional activity is not compatible with working from home; to go to a hospital, health centre or dental clinic; to go to a veterinary clinic or walk a pet
to carry out caring or similar duties; or to take short periods of exercise outdoors (individually, not in groups)."
Germany
The FCDO is advising against all non-essential travel to Germany.
The German government has restricted air and sea travel to Germany at its external Schengen borders.
Travellers from the UK are currently only permitted to enter Germany if they are returning to their place of residence, if they serve in an important role or if they have an urgent need, such as urgent medical treatment.
"Travellers arriving in Germany who have been in the UK in the preceding 10 days must present a negative COVID-19 test to border officials when entering Germany," states the FCDO travel advice.
"Airline passengers will have to present their negative test at the start of their journey.
"The result can be in either paper or electronic form. The test must have been taken less than 48 hours before entry to Germany.
"Children aged five or under are exempt from the test requirement.
"Even with a negative test, travellers will still be required to self-isolate for 10 days following arrival in Germany, with the possibility of test and release after 5 days in some areas."
The FCDO says it "is not advising those already travelling in Germany to leave at this time."
It adds: "Travellers should follow the advice of the local authorities on how best to protect themselves and others, including any measures that they bring in to control the virus."
Current measures in place in Germany include a name of restrictions on social contact in place until February 14 at the earliest.
Under the current lockdown rules, private gatherings are restricted to one household plus one individual from another household; non-essential shops are closed.
Shops selling food and healthcare products will remain open
personal care service providers such as barbers, hairdressers, tattoo and massage parlours are closed.
Physiotherapy and similar services are open.
Schools and nurseries will largely be closed until at least February 14
employers are legally obliged to allow employees to work from home, where their work activities allow, until March 15.
Restaurants are permitted to provide a takeaway service, but the consumption of alcohol in public is banned.
Services at churches, mosques and synagogues continue to be allowed as long as 1.5m distancing is maintained, mouth-nose coverings are worn and singing is banned.
In some parts of Germany, local travel restrictions are in place and individuals cannot leave a 15km radius of their place of residence.
Greece
The FCDO is currently advising against all non-essential travel to Greece.
However, the FCDO is not advising against travel to the islands of Rhodes, Kos, Zakynthos, Corfu and Crete.
"UK nationals are permitted to enter Greece if they are a permanent resident in the UK, Greece, another EU/EFA state, or in one of the following countries; Australia, Japan, New Zealand, Rwanda, Singapore, South Korea, Thailand, UAE," explains the FCDO.
"If you're a British national who resides in another country, not listed above, you're likely to be refused entry to Greece due to measures put in place by the Greek authorities to combat the spread of COVID-19."
Passengers heading to Greece will need to complete a Passenger Locator Form (PLF) at least 24 hours before travel.
Failure to do so in advance may result in being denied travel, a €500 fine on arrival or the Greek authorities denying entry to the country.
All arrivals into Greece need to provide proof of a negative COVID-19 PCR test, undertaken within the 72 hour period before your time of arrival into Greece
Anyone entering Greece from the UK will also be asked to undergo a rapid test for COVID-19 on arrival.
Furthermore, UK arrivals must quarantine for seven days, even in the event of a negative test result. This is extended to 14 days for a positive result.
In either instance, travellers will then take a further PCR test at the end of their self-isolation period.
Anyone heading back to the UK from Greece must present a negative COVID-19 test taken within 72 hours of travel and then self-isolate for 10 days.
Britons in Greece are advised to follow the advice of local authorities regarding any restrictions.
These include the obligatory use of facemasks in all indoor and outdoor public spaces, a ban on non-essential movement outside of the home and obligatory certification of any essential movements.
Source: Read Full Article