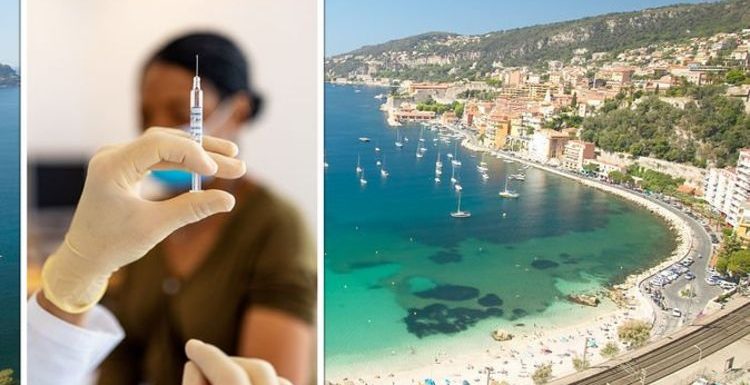 France: Vaccine rollout 'is not enough' says Mayor
When you subscribe we will use the information you provide to send you these newsletters. Sometimes they'll include recommendations for other related newsletters or services we offer. Our Privacy Notice explains more about how we use your data, and your rights. You can unsubscribe at any time.
Holidays for Britons have been off the cards due to the ban on international travel. However, British holidaymakers who have been vaccinated or come back with a negative coronavirus test may be able to visit France from June 9, according to the leaked plans.
President Emmanuel Macron plans to ease the nation's restrictions on May 2, which includes lifting travel restrictions and easing the curfew currently in place.
With hopes that the number of daily Covid-19 cases will soon begin to fall, France is hoping to welcome back holidaymakers from June 9.
The leaked plan details the country will reopen its restaurant terraces in mid-May and hopefully return to some normality by June 30.
If all goes to plan, the easing of restrictions will see France's tourist hotspots fully reopened just nine days after the UK.
Some French doctors have said the plan is "mad" given the country is still experiencing high numbers of infection and death rates.
Those who wish to visit France on holiday will most likely be required to quarantine for 10 days on return as well as paying for a PCR test.
This is because the country will most likely be placed on the "amber" destination list of Boris Johnson's roadmap out of lockdown.
Passengers travelling from a "green" destination will be required to take a test on day two of their return but travellers returning from an "amber" destination will require tests on days two and five of their isolation period.
DON'T MISS:
UK holidays: Park owner reports 'never seen before' surge in homeowner [COMMENT]
Turkey: FCDO issues new update as on 'extended lockdown' [INSIGHT]
Rightmove: Portugal named 'top overseas property hotspot' [EXPERT]
Those returning from red list destinations must test on days two and eight of their hotel quarantine stay, however, the cost of these tests is included with the £1,1750 hotel quarantine package paid to the Government.
It is thought that PCR tests could cost up to £300.
Under the current lockdown rules, international travel is illegal until May 17 under the roadmap out of lockdown.
The Foreign, Commonwealth and Development Office (FCDO) explained that the health situation in France remains "severe" and that Britons can only enter the country for certain reasons.
It is feared that several countries may be off the cards this year as coronavirus cases in certain countries are still prominent.
In a bid for tourism to restart in Turkey, President Tayyip Erdogan reigned in social activities and travel to try and bring the numbers down.
It is thought that 2.5million British holidaymakers visited Turkey in 2019, with tourism being its biggest income.
Since the start of the pandemic, Turkey has registered a total of 4.63 million coronavirus causes, with the deal toll hitting nearly 40,000.
Total daily cases in Turkey peaked above 63,000 on April 15 and have since slightly dropped, but is it enough for tourist hotspots to reopen?
Officials have said that a full shutdown of the country would be needed for holidays to be on the cards.
One official told Reuters: "Cases…have been falling for a few days but this is not enough.
"A full shutdown will be on the cabinet's agenda and this option should be implemented."
Turkey is one country that has said it will welcome travellers back even if they have not yet been vaccinated.
Instead, international arrivals will be required to show proof of a negative PCR test taken within a certain amount of time.
Source: Read Full Article