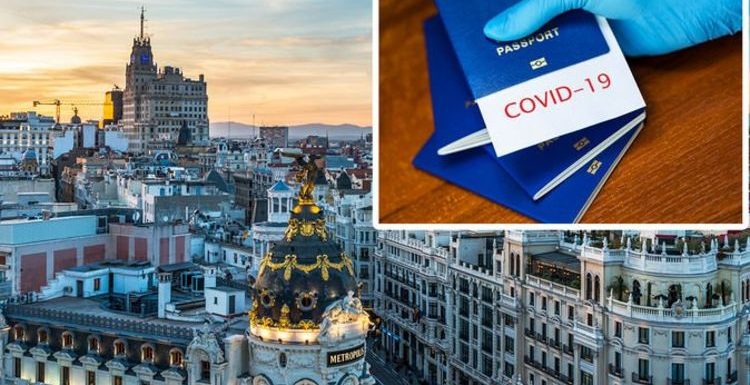 Vaccine: Matt Hancock discusses 'Covid vaccine passports'
Spain has announced it will give its full support to a European covid vaccine passport in a bid to reactivate the beleaguered tourism industry. The new passport would prove that the traveller has been inoculated against COVID-19. The initiative, put forward by Greece, will be debated by European leaders at a telematics summit on Thursday.
Spanish Minister of Industry, Trade and Tourism, Reyes Maroto is backing the proposed vaccination passport.
"It is good news as a sign of multilateral commitment. It could contribute to restoring mobility at European level," said the minister at the meeting of the Executive Council of the World Tourism Organisation (UNWTO).
"Reaching immunity is a key milestone to generate confidence to travel."
Maroto confirmed Spain is working intensively within the EU, UNWTO and other multilateral organisations to ensure safe mobility.
We will use your email address only for sending you newsletters. Please see our Privacy Notice for details of your data protection rights.
She stressed it was essential to establish "a common framework" to give confidence to tourists and to "avoid indiscriminate measures, such as quarantines or travel restrictions."
The Minister explained the Spanish government is working to implement a plan to modernise the tourism sector, which in Spain represents 12 percent of GDP, and enhance "its entire value chain."
Greece authorities have spoken out about the importance of facilitating travel.
Greek Prime Minister, Kyriakos Mitsotakis, wrote in a letter sent to the President of the European Commission (EC), Ursula von der Leyen, that although Greece will not establish vaccination as a mandatory requirement for travel, "those who have been vaccinated should be free " to move.
Furthermore, he said freedom of movement in the Schengen area is "a necessity, a fundamental priority for all of us."
Maroto has offered Spain's collaboration to address the challenge facing tourism at a multilateral level, which, according to Maroto, must be faced "in a collaborative way."
However, the proposed vaccine passport is not backed by all European countries.
Some countries such as France are reluctant to implement the vaccination passport due to the discrimination it may generate between immunised citizens and those who are not.
Britons are currently unable to travel.
"If you are in the UK you should not travel abroad," explained the government.
"You can only travel abroad if you have a legally permitted reason to leave home."
New travel restrictions also came into force yesterday.
"If you intend to travel to England, Scotland, or Wales from abroad, including UK nationals returning home, you must provide evidence of a negative COVID-19 test result taken up to three days before departure," said the Foreign, Commonwealth and Development Office (FCDO).
"If you do not comply (and you do not have a valid exemption) your airline or carrier may refuse you boarding and/or you may be fined on arrival.
"Before you return to the UK you must provide your journey and contact details.
"You must self-isolate when you enter the UK from any foreign country except Ireland unless you have a valid exemption."
Additional reporting by Rita Sobot
Source: Read Full Article