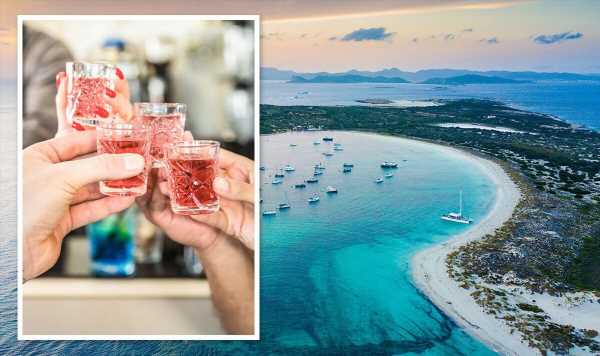 KLM: Brawl breaks out on board flight to Ibiza
We use your sign-up to provide content in ways you've consented to and to improve our understanding of you. This may include adverts from us and 3rd parties based on our understanding. You can unsubscribe at any time. More info
Holidaymakers jetting off to Spain this year will be subject to new rules on all-inclusive alcohol in some parts of Majorca and the Balearics. The rules have been put in place by regional governments in a bid to address the "issues of over-consumption of alcohol" according to HotelManagement.net.
Although initial concerns thought the ban might apply to the entity of Majorca, it has since been decided the rule will only be in force in Magaluf and El Arenal on the island.
Similar rules are also in place in the Balearic Islands hotspot of Ibiza.
The regional government said that the law would "force a real change in the tourism model of those destinations".
Under the new legislation, happy hours, pub crawls and two-for-one drinks will also be banned.
The rule also bans the sale of alcohol in shops between 9.30pm and 8am, and forbids the advertising of party boats in designated areas.
Balearic Islands Tourism minister Iago Negueruela said in London last week: "We want British tourists.
"We don't want this type of tourism. British tourism is essential for our islands.
"We share with the British Government the view that some images of British tourists are embarrassing.
DON'T MISS
easyJet: How pilot tackled TERRIFYING 40mph wind in tense landing [REVEALED]
Passport renewals could 'take longer' if Brits forget key information [INSIGHT]
UK passport waiting times and how to get it back faster [EXPLAINER]
"We want to put a stop to bad behaviour.
"From April to May this year we will increase the police presence in these areas and the number of inspectors.
"We will have zero tolerance for tourism excesses."
Travel body ABTA has said it "strongly supports" the changes.
In a statement, ABTA said: "Some of the measures introduced by the Balearic Islands authorities to limit anti-social behaviour have potential to cause confusion for UK holidaymakers, so we welcome the recent clarification from the authorities, including that the restrictions will only apply to certain limited areas in Mallorca and Ibiza rather than the whole of the Balearics as originally proposed.
"It is important to note that the limits on alcoholic drinks in all-inclusive hotels does not apply to any holidays booked before 23 January 2020, for travel during 2020.
"For all-inclusive holidays booked after that date, we recommend that customers check with the agent or operator selling the holiday, as the exemption will still apply if there was an existing contract between the hotel and the tour operator agreed before that date.
"ABTA will continue to engage with the Balearic Islands Government, ABTA Members and other parties, to encourage clear communication and exchange of information, in order to ensure holidaymakers travelling to hotels in the designated areas enjoy a positive customer experience."
Source: Read Full Article