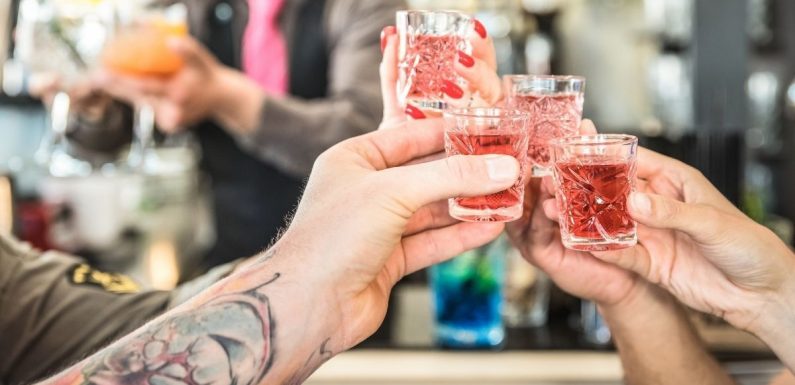 Male tourist KNOCKED OUT in Magaluf street brawl
We use your sign-up to provide content in ways you've consented to and to improve our understanding of you. This may include adverts from us and 3rd parties based on our understanding. You can unsubscribe at any time. More info
The government of the Balearic Islands are cracking down on Britons who exhibit drunken behaviour on holiday due to unlimited drinks at resorts.
One appeal of the all-inclusive holiday is the unlimited drinks.
There are some holidaymakers who choose to book all-inclusive trips deliberately so they can continue drinking parties well into the night.
But a new rule means that Britons cannot get too inebriated all their all-inclusive holidays.
Holidaymakers will be limited to just six drinks per day, enjoyed alongside their lunch and dinner.
This means that guests will only be allowed three drinks per meal.
The rule has been enforced in Magaluf, Majorca, and some areas of Ibiza, which are famed for their party culture.
Thomas Cook alerted customers of the new regulation ahead of the summer holidays.
An email from the travel agency read: "Please be advised that a decree has been issued by the Balearic Government on a new restriction for All Inclusive meal option.
"There is a maximum of six alcoholic drinks per person per day that can be served and these drinks will be provided only during lunch and dinner."
The Balearic government also put a stop to pub crawls, as well as prohibiting the sale of alcohol in shops between 9.30pm and 8am.
Balearic Islands tourism minister Iago Negueruela previously spoke about British tourism and how the drinking was often excessive.
"We want British tourists – we don't want this type of tourism."
He continued to the Europa Press that British tourism is essential.
However, he deemed some of the behaviours of Brits abroad as "embarrassing".
He stated that he shared his view with the British government.
Iago hopes that this limitation of alcohol will curb bad behaviour.
The tourism minister also revealed he would be increasing the police presence in certain areas.
He would also increase the number of inspectors.
This move aims to solidify his message that the Balearic Islands has a "zero tolerance" policy on tourism excess.
Thomas Cook said: "In certain areas of the Balearics there are some limitations on alcohol consumption."
He told the Daily Star that he wants customers to be aware of this when they book their holidays.
Source: Read Full Article