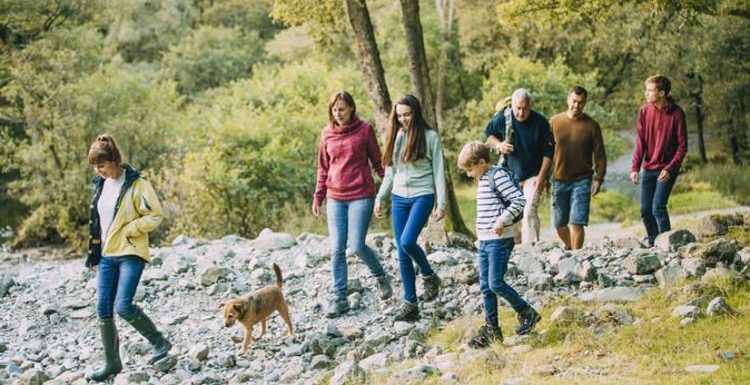 The Supervet: Noel praises owners for their love for dog
We use your sign-up to provide content in ways you've consented to and to improve our understanding of you. This may include adverts from us and 3rd parties based on our understanding. You can unsubscribe at any time. More info
Pet ownership is on the rise, with 3.2 million UK households welcoming a new pet during the pandemic.Animal-lovers up and down the country are looking at pet-friendly holidays, and Britons may be tempted to book somewhere close to a national park.
Some UK national parks have restrictions on when, and even if, pet owners can take a stroll with their dogs, a fact that may come as a surprise to many.
To help with finding a dog-friendly national park, tails.com has ranked UK national parks based on their dog criteria.
Looking at 20 UK National Parks, tails.com allocated points based on ten criteria.
The important dog-friendly features that were looked at for the study are:
Dog-Friendly
Off lead options
Dog-friendly Garden
Dog-friendly Woodland
Dog-friendly park grounds
Dog-friendly Restaurant
Restaurant exterior
Dog Waste Bins
Dog Drinking Water
Dog owners can now check the list of most dog-friendly park and plan where to go on their next adventure.
Sheffield Park and Garden is the UK's most dog-friendly National Park.
Scoring 100 out of 100, the East Sussex national park provides facilities such as drinking water and waste bins, dog-friendly restaurants and plenty of areas fully accessible for dogs.
In second place, Erddig, Wrexham, has a dog-friendly garden, woodland and park but no dog-friendly eateries.
Lyme Park in Cheshire came third, scoring 70 points out of 100.
Every park featured below the top three has scored between 60 and 40 points, making them good alternatives but not the friendliest of places to take a dog.
For a dog-friendly adventure, the best option is without a doubt to head to Sheffield.
The National Trust land features a garden and acres of historic parkland and woodland.
The parkland has a three-mile trail that allows visitors to take in the views and landmarks, and dogs are welcome on short leads.
With a deer park, livestock, a wildlife haven and a Second World War camp, the 250 acres of parkland at Sheffield are a great place to visit.
The top 10 most dog-friendly National Parks are:
1. Sheffield Park and Garden
2. Erddig
3. Lyme
4. Kingston Lacy
5. Croome
6. Petworth Park
7. Lyveden
8. Plas Newydd House
9. Dunster Castle and Watermill
10. Ormesby Hall
Source: Read Full Article