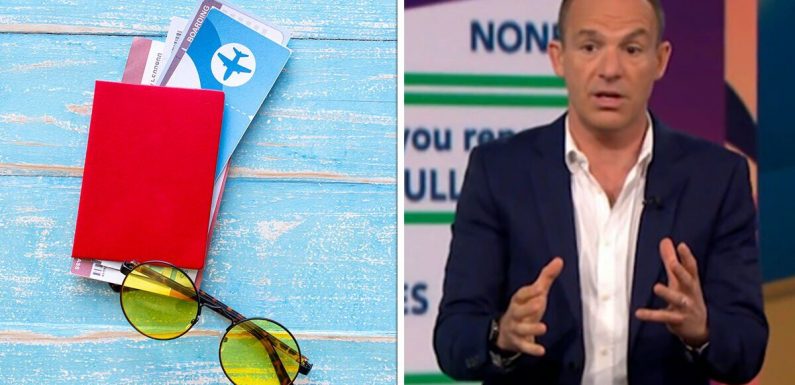 Martin Lewis reveals best cards for travel abroad
We use your sign-up to provide content in ways you've consented to and to improve our understanding of you. This may include adverts from us and 3rd parties based on our understanding. You can unsubscribe at any time. More info
Martin Lewis is a personal finance expert and founder of Money Saving Expert. On his money saving show on ITV last night, May 24, Martin shared the best debit and credit cards for travelling abroad.
Martin revealed the three top debit and credit cards that Britons should take with them when travelling abroad this summer.
He said: "You've got the two that have been around for quite a while, the Halifax Clarity Credit Card, the Barclay Card Rewards Credit Card, and the new entrant, the Chase Debit Card."
Martin went on to explain that the latter "is operated via an app".
"This is from a big American bank, it's coming to the UK and it's spending a lot of money to win your custom, which means it's actually in the best buys," the money saving expert said.
The Chase Debit Card is not only "in the best buys" for spending abroad, but for "cash back in the UK, where it gives one percent cash back".
There is also a "linked savings account which pays 1.5 percent easy access, which is a massive best buy", according to Martin.
The personal finance expert said the Chase Debit card is "getting very popular very quickly" because "they're throwing money at it".
One viewer in the Martin Lewis Money Show studio had purchased the card already.
DON'T MISS:
Flight attendant shares hotel room tip – 'replace your room key' [COMMENT]
England's best beach is in Cornwall [REPORT]
Flight attendant 'you will never get upgraded' on a flight [INSIGHT]
Martin continued: "I don't know how long it'll stay good rates, but for the moment it works quite well."
As for spending abroad, normally "if you spend on plastic abroad, your bank or credit card provider gets a near perfect rate, and adds roughly a three percent fee on top", the money saving expert said.
Martin added: "So, if you spend something that costs £100's worth of euros, you pay £103.
"But, with all of these cards, they don't add that so you get the same near-perfect rate your bank does.
"Also, none of them charge interest on spending, with these two cards though because they're credit cards (Halifax and Barclay), you have to pay it off in full.
"So, as long as you pay it off in full you won't pay interest."
Martin went on to explain credit checks, saying: "Chase is the best because it's just a limited ID check, the other two have a much stronger check, so you might not be able to get accepted on them."
Using these cards abroad also means you can withdraw cash from ATMs for free, Martin added.
However, the limits are much bigger on the Halifax and Barclay cards. With these, it's £500 a day, instead of £700 a month.
"On the Halifax, though, if you withdraw money on your credit card, even if you pay off in full, you will pay interest on it," Martin explained.
He went on to say that when spending abroad, Chase will give you "£1 cashback on top, making it even cheaper than the rates the bank gets effectively, and that works in the UK aswell for a year".
With Halifax, if you "spend a penny on it", users will get "£20 off their first purchase".
Martin stressed that all cards are "good", but Chase comes out slightly on top.
"All of those are startlingly good for spending abroad," he added.
"Smashing the pants off everything else."
Source: Read Full Article