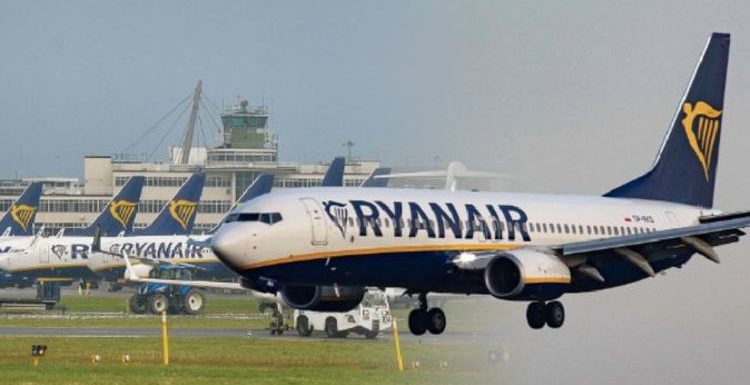 Ryanair's Michael O'Leary says arrival tests will 'close off UK'
At the beginning of January, as the UK entered into its third national lockdown, Ryanair made the decision to slash huge swathes of its flight schedule right up until April. Airline bosses cited a major drop in foot traffic as the driving force behind the decision.
Following new lockdown measures being enforced across Europe, a move which has been slammed by the airline as "ineffective", Ryanair outlined plans to "significantly cut" its flight schedule from January 21.
The airline predicts the current coronavirus restrictions could reduce February and March traffic to as little as 500,000 passengers each month.
In a press release, the airline stated there will be "few if any, flights being operated to or from Ireland or the UK from the UK from the end of January until such a time as these draconian travel restrictions are removed".
The cutbacks will also see the airline dropping its full-year traffic forecast from "below 35 million" to between 26 million and 30 million.
What does this mean for passengers who have made bookings with the Irish carrier?
We will use your email address only for sending you newsletters. Please see our Privacy Notice for details of your data protection rights.
What are my options if my flight has been cancelled by Ryanair?
Ryanair states it will contact passengers "as soon as possible" by email or text message if their flight is impacted by a cancellation.
Customers who have their flight cancelled by the airline will be able to choose from two options, including a full refund.
On its website, Ryanair states: "We deeply regret the inconvenience of flight cancellations and we'll try our best to minimise the impact of these disruptions.
"If your flight is cancelled there are two options available to you to choose from. You can either apply for a refund or change your cancelled flight for free."
Customers can opt for a full refund via the Ryanair website by logging into their MyRyanair account.
"Refunds will be processed, within 7 working days, back to the form of payment used for the original booking," states the airline.
Customers who want to change their flight to a later date can do so online via their MyRyanair account.
Flights are "subject to seat availability."
"All connections are subject to travel restrictions. In the event of a flight cancellation, customers can avail of a free flight change or apply for a voucher/refund should they so wish," a Ryanair spokesperson told Express.co.uk previously.
"Ryanair urges all passengers to check the latest travel updates on the Ryanair.com website and with the relevant authorities in advance of their flight."
DON'T MISS
TUI: Latest updates on TUI flights, holidays and cruises [UPDATE]
Travel news: Matt Hancock says Brits can expect 'happy summer' [COMMENT]
UK holidays: A look at new Kent £3.5billion theme park [PICTURES]
What are my options if my flight has not been cancelled, but I can not fly or no longer wish to fly?
Customers who no longer wish to fly, or who are unable to, can not claim full refund if their Ryanair flight is still operating.
However, the airline is allowing customers to amend their booking to a later date free of charge.
On its website, Ryanair explains: "We know your plans may change, so we've dropped our flight change fees for all new bookings made before 31 March 2021, for travel before 31 October 2021. You can now make up to two flight changes for travel by 31 October 2021.
"This gives you complete flexibility and peace of mind, and you only pay the fare difference."
What does this mean for Ryanair flight bookings beyond April?
Currently, the airline has not released any update on changes to flight schedules beyond April.
However, the airline does note all connections "are subject to travel restrictions" and advises customers to "check the latest travel updates."
Customers who are impacted by a flight change or cancellation will be contacted by the airline.
What should I do if I booked my Ryanair flight through an online travel agent?
Customers who are waiting for a refund but booked through an online travel agent are advised to contact the airline directly via a specialist portal on the Ryanair website.
Ryanair's website explains: "Ryanair has implemented a new customer verification process to help customers who used an OTA to book their flight and are still waiting for their refund.
"The new process is simple and quick to use. It allows Ryanair to verify the customer's details electronically.:
From the help page on Ryanair's website customers will be directed to download a "customer verification form" where they can provide their personal information.
Once submitted and confirmed, the refund will be processed.
Ryanair is also advising customers to "book direct" with the airline in future.
Are customers entitled to compensation as a result of cancellations?
As per advice from the UK Civil Aviation Authority, cancellations which come as a result of the coronavirus pandemic are not covered for compensation by Regulation EC261/2004.
This is because the COVID-19 pandemic is treated as an extraordinary circumstance.
How is Ryanair improving safety for future flights?
Like many airlines, Ryanair has implemented a new set of safety features to ensure the wellbeing of passengers and crew travelling during and after the pandemic.
Passengers are advised they "must complete the necessary forms before travel".
Face masks and coverings are mandatory both "at the airport and onboard your flight".
"Some countries require passengers to wear surgical face masks at the airport and on-board the aircraft," states Ryanair.
"It is each passenger's responsibility to check local requirements before travelling."
Passengers are requested to check-in online and download their boarding pass.
Those checking in a bag are asked to use the automated bag drop.
At the boarding gate, passengers will be asked to scan their own boarding passes, and queuing will be kept to a minimum.
All Ryanair aircraft "are professionally cleaning and disinfected on a daily basis which is effective for 24 hours", meanwhile "state-of-the-art air filtration systems which operate to hospital standards" are fitted onboard.
Inflight service may be reduced and passengers are asked to use contactless payments.
Source: Read Full Article