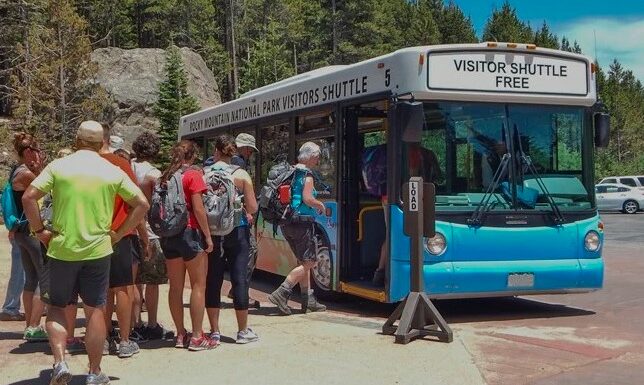 Rocky Mountain National Park will operate the Hiker Shuttle during the 2023 summer season beginning on Friday, May 26. Seven-day service will operate May 26 through Sept. 4. Beginning on Sept. 9, Saturday and Sunday only service will continue through Oct. 22.
The Hiker Shuttle provides bus service to passengers departing the Estes Park Visitor Center and going to RMNP's Park and Ride Transit Hub, located on Bear Lake Road. This bus does not provide service to any other stops. At Park and Ride, Hiker Shuttle riders will transfer to the Bear Lake or Moraine Park shuttles to reach destinations and trailheads located along the Bear Lake Road Corridor.
All shuttle riders will need two things: a reservation for Hiker Shuttle Tickets and a park entrance pass. Reservations for Hiker Shuttle Tickets will be available online at Recreation.gov beginning on May 1 at 8 a.m. MDT for the dates of May 26 – June 30. Reservations can also be made using the Recreation.gov mobile app or by calling the Recreation.gov reservation line at 877-444-6777. Rolling windows for future months begin at 8 a.m. MDT on June 1. Individuals may reserve one Hiker Shuttle reservation per day and a reservation is good for one to four Hiker Shuttle Tickets. All passengers will need a Hiker Shuttle Ticket, regardless of age. There is a $2 processing fee for each reservation.
Additional reservations will be available online at Recreation.gov beginning at 5 p.m. the night before a chosen arrival date. Space on the bus is limited, please only reserve the number of seats needed. For the full Hiker Shuttle departure and arrival schedule and a list of frequently asked questions, visit the park's website at https://www.nps.gov/romo/planyourvisit/shuttle-buses-and-public-transit.htm.
When returning to Estes Park, passengers can board any Hiker Shuttle bus throughout the day. The last shuttle will depart from RMNP's Park and Ride Transit Hub at 6 p.m. Remember to plan ahead – the last bus of the day will be crowded. Passengers are advised to plan their day in the park accordingly and return to Park & Ride well before 6 p.m. If you miss the last bus of the day, there are no other buses or public transit back to Estes Park.
For more information on Rocky Mountain National Park, please call the park's Information Office at (970) 586-1206 or visit our website at www.nps.gov/romo.
Subscribe to our weekly newsletter, The Adventurist, to get outdoors news sent straight to your inbox.
Source: Read Full Article