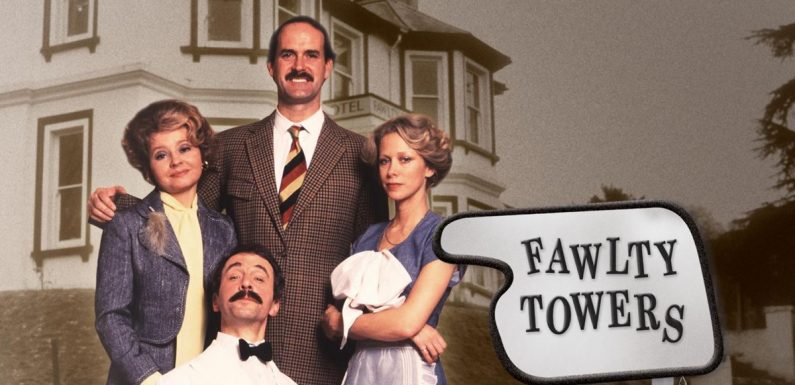 Bookmark
Don't miss a thing! Sign up to the Daily Star's newsletter
We have more newsletters
Iconic TV show Fawlty Towers is returning to screens after a 40 year hiatus.
The sitcom only ran for two seasons, but easily settled into the pop culture of the nation.
Now John Cleese, now 83, will return to the small screen as Basil Fawlty working alongside his daughter Camilla.
READ MORE: Inside the Harry Potter villa that's £32pp a night with a Diagon Alley and flying car
Castle Rock Entertainment revealed earlier this week that they would be bringing Brits back to Fawlty Towers soon.
The re-boot will follow Basil trying to navigate the modern world while still running a hotel, reports DevonLive.
But, the show was originally based on an actual hotel and its "rude" owner – so what happened to the real Fawlty Towers?
John Cleese apparently based the comedy on The Gleneagles in Torquay Devon after he stayed there with his Monty Python crew in 1973.
Apparently, the former owner Donald Sinclair inspired Basil with his behaviour.
The Monty Python crew mostly moved out early because of the rudeness of the owner, but John alongside Connie Booth stayed to observe Donald.
John apparently said that he was "the most marvellously rude man I've ever met".
Antics the star observed included Donald insulting Terry Gilliam's "too American" dining etiquette.
Plus, he threw Eric Idle's bag out of a window "in case it contained a bomb".
The Gleneagles owner died in 1981 and the famous hotel no longer exists was unfortunately demolished in 2016 and turned into retirement flats.
But, prior to being knocked down, The Gleneagles was a large 41-room establishment that opened in 1963.
Each room had an amusing name such as "coral" or "mimosa".
The show itself was not filmed at the Gleneagles as most of the interior shots were shot at the BBC's old Television Centre in Shepherd's Bush, London.
The exterior shots of the hotel were filmed in High Wycombe, Buckinghamshire, at The Wooburn Grange Country Club.
Sadly, the glam country club burned down in 1991 and was later also demolished.
Those who want to experience a holiday in a Fawlty Towers style hotel shouldn't feel they'll miss out though.
Torquay bed and breakfast owner Peter Bland, who runs The Somerville with his wife Helen, has been dubbed a "dead ringer for Basil".
He loves to joke about the comparisons and claims he's "anti-woke" and a "bit of a character".
READ NEXT:
Where was Wednesday filmed? Inside the real castle used for Nevermore Academy

National park that inspired Avatar has 'floating' mountains and towering cliffs

Inside the 'most alien looking place' on Earth with bizarre trees and animals

'I spend £12k a pop on glam trips to Dubai but men offer to fly me out for free'
Source: Read Full Article